Chemical Composition Indicators in Sugar Cane Based on the Re-Shooting Age, Plant Variety, and Plant Fraction
Yoslen Fernández Gálvez

Regional Station for Sugar Cane Research mideast, Florida, Camagüey, Cuba

Redimio Manuel Pedraza Olivera

Center for Animal Production Studies, Faculty of Agricultural Sciences, Ignacio Agramonte Loynaz University of Camagüey, Cuba

Ailsa Llanes Díaz

Regional Station for Sugar Cane Research mideast, Florida, Camagüey, Cuba

Yusvel Hermida Baños

Regional Station for Sugar Cane Research mideast, Florida, Camagüey, Cuba

Isabel Cristina Torres Varela

Regional Station for Sugar Cane Research mideast, Florida, Camagüey, Cuba

Joaquín Montalván Delgado

Regional Station for Sugar Cane Research mideast, Florida, Camagüey, Cuba

Arlandy Noy Perera

Regional Station for Sugar Cane Research mideast, Florida, Camagüey, Cuba

Yaquelín Puchade Izaguirre

Regional Research Center for Sugar Cane, Southeast, Palma Soriano, Santiago de Cuba, Cuba.

Edilberto García Licea

Regional Research Center for Sugar Cane, Southeast, Palma Soriano, Santiago de Cuba, Cuba.

Nancy Yumarys Zambrano Quiñones

Center for Sugar Cane Research, Havana, Cuba

Yaima Daniel Ortega

Faculty of Agricultural Sciences, Ignacio Agramonte Loynaz University of Camagüey, Cuba
Resumen
The general goal of this paper was to assess the behavior of chemical composition indicators (dry matter, ash, gross protein, phosphorous, and potassium) of two new sugar cane varieties, according to plant fraction and re-shooting age. Several plant fractions (whole, nodes, stem) were analyzed chemically at different re-shooting ages (six, eight, and eleven months). Forage variety My5514 was used as control. Multivariate analysis of variance was also made. The results demonstrated that the chemical composition indicators of ash, gross protein, phosphorous, and potassium in sugar cane, depended on the age of re-shooting, variety, and plant fraction. Dry matter depended on the re-shoot age and plant fraction.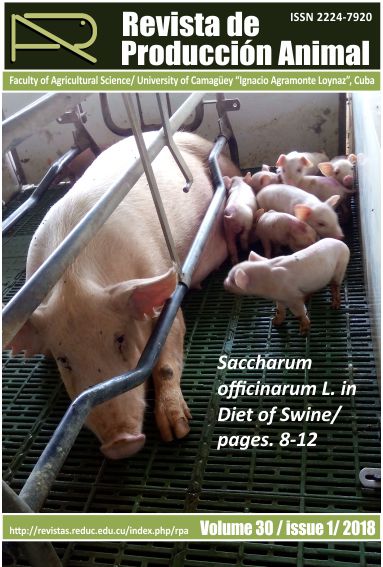 Sección
Manejo y Alimentación
Derechos de autor 2018 Revista de Producción Animal
Esta obra está bajo licencia internacional
Creative Commons Reconocimiento-NoComercial-SinObrasDerivadas 4.0
.