Removal of Penile Spicules of Covies (Cavia porcellus) and its Effect on Weight Gain and Aggressiveness
Cornelio A. Rosales Jaramill

Faculty of Agricultural Sciences, University of Cuenca, Ecuador

Ermes R. Rodas Carpi

Faculty of Agricultural Sciences, University of Cuenca, Ecuador

Pedro E. Nieto Escandón

Faculty of Agricultural Sciences, University of Cuenca, Ecuador

Carlos S. Torres Inga

Faculty of Agricultural Sciences, University of Cuenca, Ecuador

Burgos G. Gordillo Guambana

Faculty of Agricultural Sciences, University of Cuenca, Ecuador

Christian Aucapiña

Faculty of Agricultural Sciences, University of Cuenca, Ecuador

Danny Marín

Faculty of Agricultural Sciences, University of Cuenca, Ecuador
Resumen
This research took place on Irquis Farm, University of Cuenca, Victoria del Portete parish, Cuenca canton, prov-ince of Anzuay, Ecuador. The effects of penile spicule extirpation on weight gain and aggressiveness, and damage caused to the carcass at the beginning of growing/fattening were studied. The study consisted of three treatments: whole animals without castration, used as controls (T1); animals with extirpation of the glans´s spicules (T2); and chemically castrated animals, using 0.5 ml of 2% alcohol with iodine, directly injected in each testicle (T3). A total of 90 animals were included, following a randomized block design with six treatments and five replicas. The diet consisted of forage mixture of 33-35% dry matter, and a commercial feed supplement administered ad libitum. A co-variance analysis (ANACOVA) was made using the initial weight as co-variable. The final weight was significantly influenced by the treatment; the Tukey´s test resulted in higher final weight in T2, followed by T1. Their behavior was significantly different from T3 (P < 0.05). In relation to aggressiveness expressed in carcass damage, no signifi-cant differences were observed, according to Chi-square test (P > 0.05).
Descargas
La descarga de datos todavía no está disponible.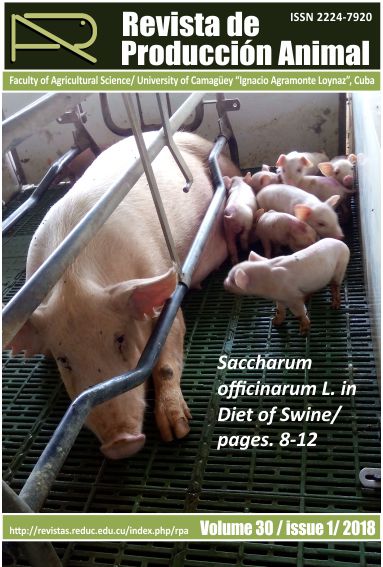 Cómo citar
Rosales Jaramill, C. A., Rodas Carpi, E. R., Nieto Escandón, P. E., Torres Inga, C. S., Gordillo Guambana, B. G., Aucapiña, C., & Marín, D. (2018). Removal of Penile Spicules of Covies (Cavia porcellus) and its Effect on Weight Gain and Aggressiveness. Revista De Producción Animal, 30(1), 44-48. Recuperado a partir de https://revistas.reduc.edu.cu/index.php/rpa/article/view/2408
Los autores de los artículos publicados en RPA retienen los derechos de autor de su trabajo, de marca y patente, y también sobre cualquier proceso o procedimiento descrito en el artículo, así como a compartir, copiar, distribuir, ejecutar y comunicar públicamente el artículo publicado en la RPA o cualquier parte de aquel siempre que indiquen la fuente de publicación (autores del trabajo, revista, volumen, número y fecha), pero están de acuerdo en que la revista publique los trabajos bajo una licencia Creative Commons.

Licencia Attribution-NonCommercial 4.0 International (CC BY-NC 4.0)