Commercial Cuban feed evaluation for red tilapia (Oreochromis niloticus x O. mossambicus) fry culture in seawater
Resumen
Background: Aquaculture slightly grew during last decade in Cuba due to nationally validated technologies and guaranteed market. Objective. To evaluate the effect of three commercial feeds (D10, D15 and D24, with 10, 15 and 24% inclusion of fishmeal, respectively) made in Cuba for freshwater aquaculture, in growth performance of red tilapia (Oreochromis niloticus x O. mossambicus) fry adapted to seawater.
Methods: Feeds proximal composition dwas determined. It was achieved the adaptation of red tilapia fry to seawater during 10 days with gradual increase of salinity. A bioassay was carried out according to a completely randomized design with three treatments and three replicates each. A total of 360 red tilapias with an initial mean weight of 0.14 ± 0.06 g, were randomly put in nine 40 L plastic containers filled with seawater, at a density of 40 individuals per container. They were fed with the commercial feeds during 55 days. Data were analyzed using one way ANOVA and Tukey's test (p < 0.05) to multiple comparisons.
Results: The protein levels of D10 (29.19%), D15 (30.14%) and D24 (33.30%) were close to the value reported in the literature (30%) for hybrid larvae grown at 35‰. In the experimental design no significant differences were detected in final weight, specific growth rate, condition factor, feed conversion ratio and survival among the red tilapias fed with commercial diets.
Conclusion: These results showed that the three commercial diets evaluated can be used to feed red tilapia fry adapted to marine environment. The use of D10 resulted in a lower cost for food.
Key words: diet, Tilapia nilotica, Tilapia mossambica, hybrids, marine environment (Source: AIMS)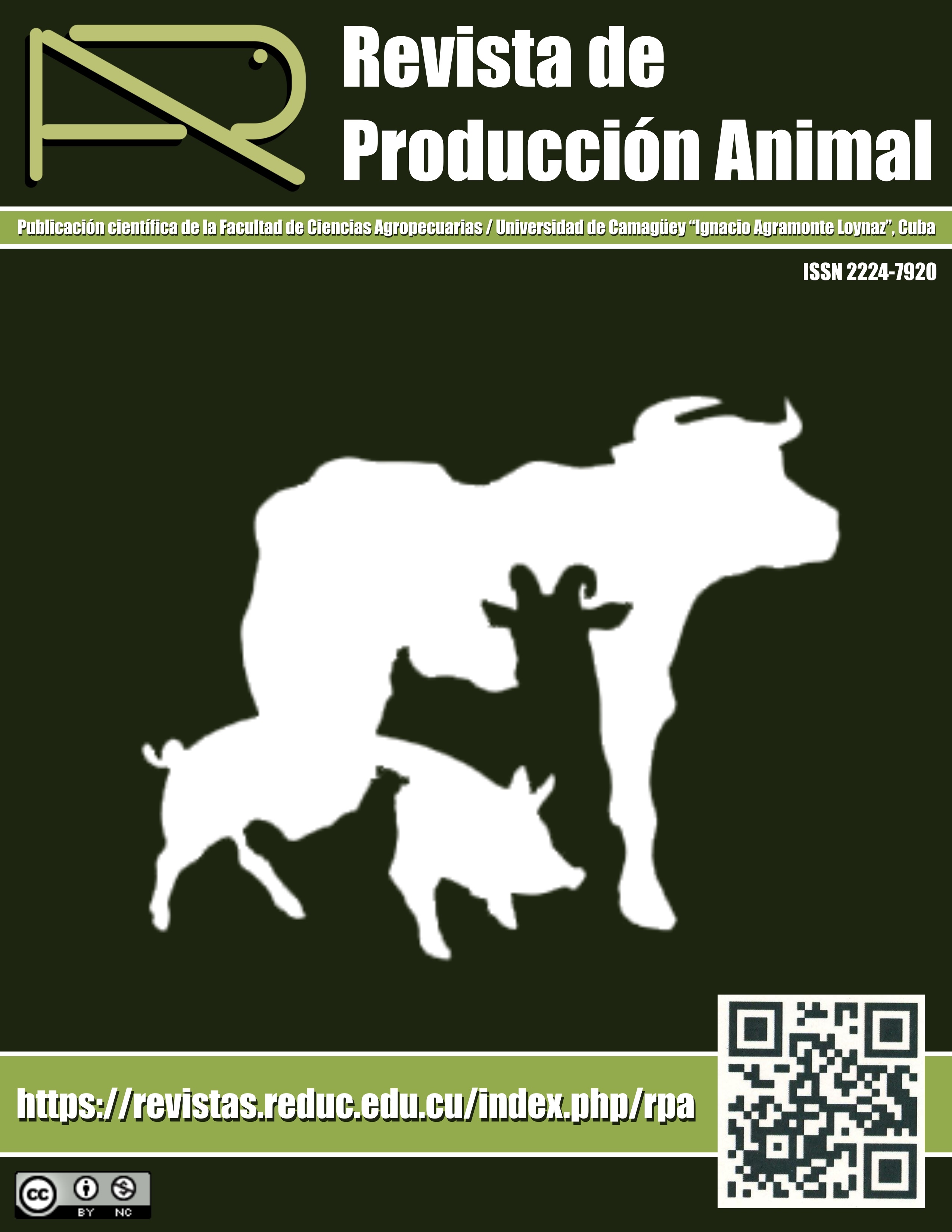 Cómo citar
Mirabent Casals, M., Toledo Pérez, S., Castro Ferrer, A., & Jaime Ceballos, B. (2020). Commercial Cuban feed evaluation for red tilapia (Oreochromis niloticus x O. mossambicus) fry culture in seawater. Revista De Producción Animal, 32(2). Recuperado a partir de https://revistas.reduc.edu.cu/index.php/rpa/article/view/e3425
Derechos de autor 2020 Revista de Producción Animal
Esta obra está bajo licencia internacional
Creative Commons Reconocimiento-NoComercial 4.0
.
Los autores de los artículos publicados en RPA retienen los derechos de autor de su trabajo, de marca y patente, y también sobre cualquier proceso o procedimiento descrito en el artículo, así como a compartir, copiar, distribuir, ejecutar y comunicar públicamente el artículo publicado en la RPA o cualquier parte de aquel siempre que indiquen la fuente de publicación (autores del trabajo, revista, volumen, número y fecha), pero están de acuerdo en que la revista publique los trabajos bajo una licencia Creative Commons.

Licencia Attribution-NonCommercial 4.0 International (CC BY-NC 4.0)