Determinación de la paramfistomosis en bovinos de sacrificio en la provincia Camagüey
Resumen
Antecedentes: La paramfistomosis es una parasitosis emergente. En Cuba los informes anteriores referentes a Paramphystomum sp, se centraron fundamentalmente a la descripción de las especies circulantes. Objetivo. Determinar la presencia de la paramfistomosis en bovinos de sacrificio en Camagüey.
Métodos: Se utilizaron datos de 550 animales sacrificados de seis municipios de la provincia entre marzo y mayo de 2017. Las variables independientes evaluadas fueron municipios y órganos infestados.
Resultados: La prevalencia en los bovinos de sacrificio fue de un 68,54%. Se determinó que rumen+retículo presenta diferencia significativa con respecto al rumen y retículo. A pesar de la alta intensidad de infestación observada con Paramphistomum sp., solo el 9,4% presentó una frecuencia superior al nivel de infestación alto (más de 1000 paramfistómidos). El municipio de menor prevalencia fue Najasa, con diferencias significativas (p<0,05) con respecto a la media de la prevalencia observada. La secuencia de 18S arrojó un 99,7% de identidad con Cotylophoron cotylophorum. El análisis filogenético por el método Neighbor-Joining, con un bootstrap de 1000 réplicas, reveló que la especie de Paramphystomum encontrada tiene un 85% de probabilidad de pertenecer al clade donde se encuentra C. cotylophorum.
Conclusiones: En Camagüey existe baja intensidad de infestación de Paramphystomum sp. en animales sacrificados y no se encontró especificidad por un órgano en particular.
Palabras clave: Ganado vacuno, Paramphistomum, parasitología, PCR, matadero (Fuente: MeSH)
Citas
Abreu, G. O. A., Piña, P. M., Diéguez, F. L., Vázquez, C. R., & Fimia, D. R. (2019). Efecto molusquicida del fruto de Sapindus saponaria sobre Galba cubensis, hospedero intermediario de fasciolosis en Cuba. Rev Prod Anim., 31(1), 47-54. https://revistas.reduc.edu.cu/index.php/rpa/article/view/2642/e2642
Alarcón, E. P., & Velásquez, L. E. (2009). Descripción morfológica de Cotylophoron cotylophorom (Digenea: Paramphistomidae) hallado en bovinos de Ríonegro, Antioquia, Colombia. Revista Colombiana de Ciencias Agroecuarias, 22(2), 168-177.
Ayalew, G., Tilahun, A., Aylate, A., Teshale, A., & Getachew, A. (2016). A study on prevalence of Paramphistomum in cattle slaughtered in Gondar Elfora Abattoir, Ethiopia. Journal of Veterinary Medicine and Animal Health, 8(8), 107-111. DOI: 10.5897/JVMAH2016.0458
Casas, R. S. (2018).Saccharomyces cerevisiae and Aspergillus oryzae, Stimulators and Modifiers of Ruminal Fermentation and Rumen Microbial Growth. Review article. Rev Prod Anim., 30(2), 1-8. https://revistas.reduc.edu.cu/index.php/rpa/article/view/2413/2163
Cauquil, L., Hüe, T., Hurlin, J.-C., Mitchell, G., Searle, K., & Skuce, P. (2016). Prevalence and sequence-based identity of rumen fluke in cattle and deer in New Caledonia. PLoS ONE., 11(4). DOI: 10.1371/journal.pone.0152603
Forbes, A. (2018). Rumen fluke: past, present and future. Livestock, 23(5), 227-231. DOI: 10.12968/live.2018.23.5.227
González-Warleta, M., Lladosa, S., Castro-Hermida, J. A., Martínez-Ibeas, A. M., Conesa, D., & Muñoz, F. (2013). Bovine paramphistomosis in Galicia (Spain): Prevalence, intensity, etiology and geospatial distribution of the infection. Veterinary Parasitology, 191(3-4), 252- 263.
Hayider, N., Mekuria, S., & Mekibib, B. (2018). Major trematodes of cattle slaughtered at Hirna municipal Abattoir: Prevalence, associated risk factors and test agreement of sedimentation technique in Ethiopia. Journal of Parasitology and Vector Biology, 10(4), 51-57.
Khedri, J., Hossein, R. M., Borji, H., & Mirzaei, M. (2015). Prevalence and Intensity of Paramphistomum spp. In Cattle from South-Eastern Iran. Iranian Journal of Parasitology, 10(2), 268-272.
Kotrla, B., & Prokopic, J. (1973). Paramphistomiasis of cattle in Cuba. Acta Veterinaria, 42(1), 35-44.
Morales, G., Pino, L. A., & Moreno, L. (2015). Cotylophoron fülleborni Nasmark, 1937 (Trematoda: Paramphistomidae). Primer Reporte para Venezuela. Avances en Ciencias e Ingeniería, 7(2), B20-B23.
Palacio, C. D., Bertot, V. J. A., Molento, M. B., Vázquez, G. A., Izquierdo, P. N., & Arenal, C. A. (2017). Seasonal Behavior of Fasciola hepatica in Cattle Slaughtered at Chacuba Abattoir, Camaguey, Cuba. Rev Prod Anim., 29(1), 30-35. https://revistas.reduc.edu.cu/index.php/rpa/article/view/2413/2163
Ploeger, H. W., Ankum, L., Moll, L., Van Dorn, D. C. K., Mitchell, G., & Eskuce, P. J. (2017). Presence and pathogenicity of Paramphistomidae in ruminants in The Netherlands. Veterinary Parasitology, 243, 42-46.
Sanguankiat, S., Sato, M. O., Sato, M., Maipanich, W. Yoonuan, T., & Pongvongsa, T. (2016). First record of Paramphistomes Fischoederius cobboldi and Paramphistomum epiclitum detected in bovine rumen from a local market of Savannakhet Province, Lao PDR. Korean Journal Parasitology, 54(4), 543-547.
Sanna, G., Varcasia, A., Serra, S., Salis, F., Sanabria, R., & Pipia, A. P. (2016). Calicophoron daubneyi in sheep and cattle of Sardinia, Italy. Helminthologia, 53(1), 87-93. DOI: 10.1515/helmin-2015-0069
Sargison, N. D., Shahzad, K., Mazeri, S., & Chaudhry, U. (2019). A high throughput deep amplicon sequencing method to show the emergence and spread of Calicophoron daubneyi rumen fluke infection in United Kingdom cattle herds. Veterinary Parasitology. DOI: http://dx.doi.org/10.1101/521229
Siben, A. N., Domatsky, V. N., Nikonov, A. A., & Beletskaya, N. I. (2018). Peculiarities of Cattle Paramphistomosis Propagation in the Tyumen Region (Russia). Journal of Pharmaceutical Sciences and Research, 10(10), 2513-2516.
Tandon, V., Roy, B., Shylla, J. A., & Ghatani, S. (2014). Amphistomes. In Trematodes, D. (Ed.), (Vol. 766, pp. 365-392). New York, NY.
Vázquez, P. A. A., Sánchez, N. J., Alba, M. A., Rodríguez, V. E., & Pino, S. A. (2013). Primer reporte de infección natural de Galba cubensis (Mollusca: Gastropoda: Lymnaeidae) con larvas de Paramphistomidae (Trematoda: Digenea) en Cuba. Revista Cubana de Medicina Tropical, 65(3), 394-397.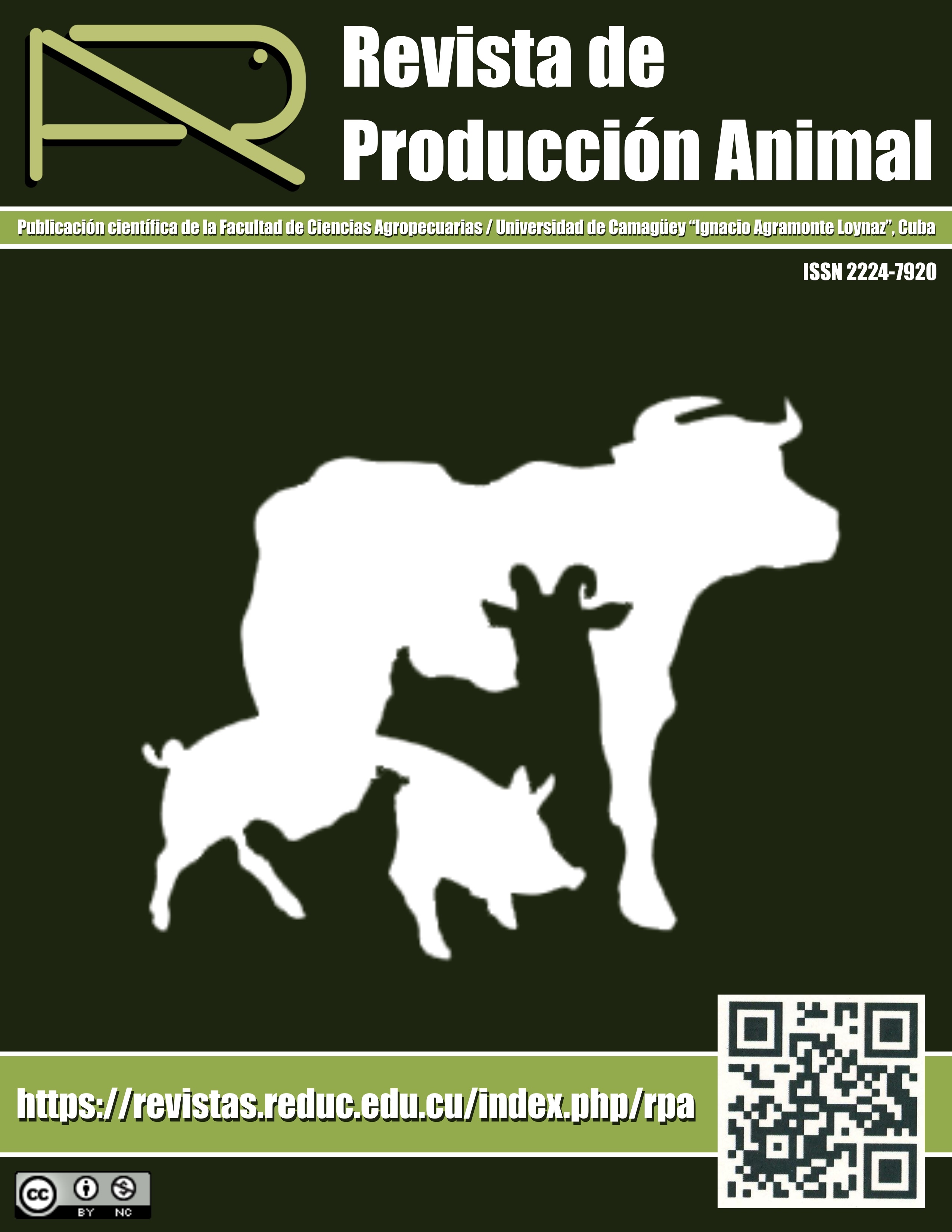 Cómo citar
León Companioni, Y., Arenal Cruz, A., Tamayo Escobar, Y., Vázquez Montes de Oca, R., Casado Simón, E., & Arias Borrero, N. (2020). Determinación de la paramfistomosis en bovinos de sacrificio en la provincia Camagüey. Revista De Producción Animal, 32(2). Recuperado a partir de https://revistas.reduc.edu.cu/index.php/rpa/article/view/e3475
Derechos de autor 2020 Revista de Producción Animal
Esta obra está bajo licencia internacional
Creative Commons Reconocimiento-NoComercial 4.0
.
Los autores de los artículos publicados en RPA retienen los derechos de autor de su trabajo, de marca y patente, y también sobre cualquier proceso o procedimiento descrito en el artículo, así como a compartir, copiar, distribuir, ejecutar y comunicar públicamente el artículo publicado en la RPA o cualquier parte de aquel siempre que indiquen la fuente de publicación (autores del trabajo, revista, volumen, número y fecha), pero están de acuerdo en que la revista publique los trabajos bajo una licencia Creative Commons.

Licencia Attribution-NonCommercial 4.0 International (CC BY-NC 4.0)