Use of Torula Yeast from Sugar Cane Molasses in White Leghorn Replacement Hens.
Jorge E. Gómez Cuello

Poultry Company of Ciego de Ávila.
Palabras clave:
yeast, layer replacement, nutrition, sugar cane molasses
Resumen
The use of Torula yeast from sugar cane molasses in the diet of White Leghorn replacement chicks L-33 was eva-luated. Two hundred 15-20 week-old chicks were used in a completely randomized design, comprising 4 treatments (10 birds per cage). Torula rations were 0,  3,  6, and 9 g/animal/day in growing diets  (105-112 days), and prelaying diets (113-140 days, or at the end of the experiment), with 4 repetitions each. The results showed that at 0; 6 and 9 g/animal/day of Torula yeast, the productive behavior of the chicks was affected. Adding 3 g/animal/day of Torula yeast in the diet of White Leghorn L-33 replacement  at the end of the growing stage, led to a higher productive behavior than in the rest of the treatments, similar indicators to their contemporary. Accordingly, identifying chicks with low weight, small size, and poor shape was made easier, and they could be returned to the production areas.
Citas
ÁLVAREZ, R. uJ. yVALDIVIÉ, M. I. (1980). Metabolizable Energy and Nitrogen Retention in Torula Yeast Diets for Broilers. Cuban J. Agric. Sci., 14, 57.

BERMÚDEZ, J. uJ. (1997). Evaluación en las condiciones de crianza actuales de nuevas variantes de gallinas productoras de huevos blancos. Tesis de doctorado en Ciencias Veterinarias. Universidad Agraria de La Habana, Cuba.

BERMÚDEZ, J. uJ. (2000). Programa de preparación de las pollonas para el comienzo de la postura. III Congreso Nacional de Avicultura. Centro de Con-venciones Plaza América. Varadero. Cuba.

BERTECHINI, A. G. yDEBRITO, J. (2007). Optimización de la calidad del huevo a través del manejo y la nutrición de ponedoras comerciales. XX Congreso Latinoamericano de Avicultura, Brasil.

BUTOLO, J. E. (1991). Avaliação biológica da levedura de cana (Saccharomyces cerevisiae) na alimentaç-ão de frangos de corte, fase inicial e engorda, substituindose total e parcialmente a suplementação de vitaminas do complexo B, presentes na levedura de cana. Seminário de produção e comercialização de cana, Piracicaba, Anais.

FÁBRICA DE PIENSOS CIENFUEGOS (2014). Resúmenes. Encuentro Nacional para Empresas productoras de Piensos. La Habana, Cuba.

HIDALGO, M. (2007). Nutrición mineral en gallinas ponedoras: desafíos en el campo. Avícola, 25 (2), 20.

KAWAKKEL, R. P.;ZANDSTRA, T. y KOOPS, W.J. (1997). Weight at Five Weeks Determines Future Laying Performance. World's Poult. Sci. J., 13 (3), 43

LABIOFAM (2014) El mundo de las vitaminas. Principales usos de los micro-elementos. II Taller sobre el uso de las vitaminas. Palacio de las Convenciones. La Habana, Cuba.

MORALES, J. L.; SÁNCHEZ, A. I. y GONZÁLEZ, C. Z. (2000). Efecto de la utilización de la levadura torula y la miel final de caña sobre el comportamiento del reemplazo de ponedoras. Rev. Cubana de Cien-cia Avícola,24 (2), 37.

PACHECO, W. J.; STARK, C. R.; FERKET, P. R. y BRAKE, J. (2013). Evaluation of Soybean Meal Source and Particle Size on Broiler Performance, Nutrient Digestibility, and Gizzard Development. Poult. Sci. J., 92(2), 914.

PERDOMO, M. C.; VARGAS, R.E. y CAMPOS, G. uJ. (2004). Valor nutritivo de la levadura de cervecería (Saccharomyces cerevisiae) y de sus derivados, ex-tracto y pared celular en la alimentación aviar. Arch. Latinoam. Prod. Anim., 12 (1), 89.

PÉREZ, M. y LÓPEZ, A. (2004). La producción de huevos en regiones tropicales y subtropicales. Salud y Producción de las aves. Univ. Agraria de La Habana, Cuba.

RODRÍGUEZ, J. (1989). Aspectos integrales en la crianza de las ponedoras y sus reemplazos. Segunda Jornada Científico-Técnica Nacional. Instituto de Investigaciones Avícolas, La Habana,Cuba.

RODRÍGUEZ, B.; MORA, L. M; OLIVEIRA, D.; EULER, A. C.; LARA, L. y LEZCANO, P. (2011). Chemical Composition and Nutritive Value of Torula Yeast (Candida utilis), Grown on Distiller's Vinasse, for Poul-try Feeding. Cuban J. Agric. Sci., 45 (2), 261.

TILLÁN, J. I.; ÁLVAREZ, R. J. y HERRERA, F. R. (1986). Apparent N and DM Digestibility of Colectomized Chickens Fed Different Levels of Torula Yeast. Cuban J. Agric. Sci., 20 (1), 55.

UECAN (2007). III Conferencia sobre calidad de los piensos avícolas. Ministerio de la Agricultura, La Habana, Cuba.

VALDIVIÉ, M. I.; COMPTE, X. y FUNDORA, O. (1982). The Utilization of Torula Yeast in Diets for White Leghorn Birds During Growth and Laying Periods. Animal Feed Sci. Tech., 7 (1), 185.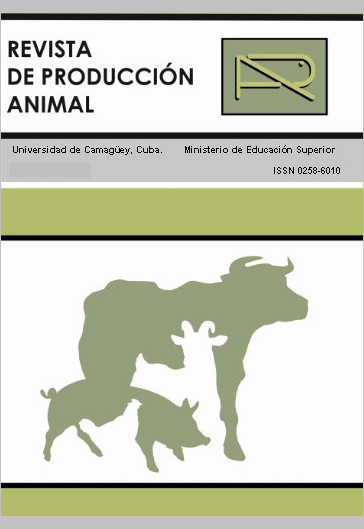 Cómo citar
Gómez Cuello, J. (2017). Use of Torula Yeast from Sugar Cane Molasses in White Leghorn Replacement Hens. Revista De Producción Animal, 27(3), 29-33. Recuperado a partir de https://revistas.reduc.edu.cu/index.php/rpa/article/view/1349
Sección
Manejo y Alimentación
Derechos de autor 2017 Revista de Producción Animal
Esta obra está bajo licencia internacional
Creative Commons Reconocimiento-NoComercial-SinObrasDerivadas 4.0
.