Fattening Commercial Zebu with Grazing and Low Supplementation on Small Farms.
Guillermo E. Guevara Viera

niversity of Cuenca, Ecuador.

Lino M. Curbelo Rodríguez

Ignacio Agramonte Loynaz University of Camaguey, Cuba.

Raúl V. Guevara Viera

University of Cuenca, Ecuador.

Carlos S. Torres Inga

University of Cuenca, Ecuador.

María Jo Díaz

National Association of Small Farmers (ANAP), municipality of Sibanicu, Camaguey, Cuba.

Carlos U. Íñiguez García

University of Cuenca, Ecuador.

Ángel J. Aguirre de Juana

University of Cuenca, Ecuador.
Palabras clave:
herds, bulls, fattening, principal components, cluster
Resumen
The aim of this paper was to describe and group grazing commercial Zebu bulls, with low supplementation. Forty-four beef-producing farms from several cooperatives of credits and services were studied. Their members are private
farmers from Sibanicu, Camaguey, Cuba. The farms were visited for three years,  and official records were made of each farmer for these variables: resources, animals, management, production, and economy. The main statigraph for the variables were calculated. The  average  initial weight, final weight, weight gain, and production per ha were, 202.6; 371.6; 501; and 326.2 kg, during 339.7 fattening days, respectively. The principal component  analysis (PCA) showed  a Kaiser-Meyer-Olkin coefficient higher than 0.66, and a significant Bartlett  sphericity  coefficient (P < 0.01), with self-values above 1. The two groups were made using a BIETAPIC cluster analysis.
Citas
CINO, D. M.; CASTILLO, E. y HERNÁNDEZ, J. L. (2006). Alternativas de ceba vacuna en sistemas silvopastoriles con Leucaena leucocephala. Indicadores económicos y financieros. Rev. Cubana Cienc. Agríc., 40 (1), 25-29.

CORTÉS, J. A.; COTES, A. T.; COTES, J. M. (2012). Características estructurales del sistema de producción con bovinos doble propósito en el trópico húmedo. Revista Colombiana de Ciencias Pecuarias, 25 (2), 229-239.

DÍAZ, E.; CASTILLO, P. C.; HERNÁNDEZ, J. L. (2009). Ceba de toros mestizos lecheros, en silvopastoreo con Leucaena, acceso a banco de biomasa y suplemento activador del rumen. Revista Cubana de Ciencia Agrícola, 43 (3), 235-237.

GUEVARA, G. V.; PEDRAZA, R. O.; MORALES, A. L.; FERNÁNDEZ, N. P. y MORELL, A.C. (2004). Clasificación dinámica de los sistemas de producción lechera de la cuenca Camagüey-Jimaguayú, Cuba. Rev. prod. anim., 16 (1), 17-24, 2004.

HERNÁNDEZ, A.; PÉREZ, J. M.; BOSCH, D. y RIVERO, L. (1999). Nueva versión de clasificación genética de los suelos de Cuba. La Habana, Cuba: AGRINFOR.

IGLESIAS, J. M.; GARCÍA, L. y TORAL, O. C (2014).
Comportamiento productivo de diferentes genotipos bovinos en una finca comercial. Ceba inicial. Pastos y Forrajes, 37 (4), 420-425.

MARTÍNEZ, J. M.; TORRES, V.; GUEVARA, G.; HERNÁNDEZ, N.; BRUNETT, L.; FONTES, D.; MAZORRA, C.; LEZCANO Y. y CUBILLAS, N. (2011). Classification of Dairy Units Belonging to the Basic Units of Cooperative Production in Ciego de Ávila, Cuba. Cuban Journal of Agricultural Science, 45 (4), 373-380.

MENÉNDEZ, A. B.; GUERRA, D.; PLANAS, T.; RAMOS, F. y FERNÁNDEZ, L. (2006). Parámetros genéticos del peso vivo de machos Cebú en prueba de com-portamiento en condiciones de pastoreo de Cuba, mediante modelo animal univariado, multicaracteres y regresiones aleatorias. Revista Cubana de Ciencia Agrícola, 40 (4), 397-407.

MOROS, R. y BUSQUÉ, J. (2014, junio). Tipificación de la ganadería bovina de carne de Cantabria a escala municipal. PASTOS y PAC 2014-2020. 53a Reunión Científica de la SEEP, 9 al 12, España.

MUÑOZ, D.C.; POSADA, P.G.; PÉREZ, C. B.; GIL, M. A. y KAIDA, E. (2012). Producción de forrajes con riego para la ceba bovina en la provincia de Camagüey. Revista Ingeniería Agrícola, 2 (2), 46-50.

OGINO A., H.; ORITO, K.; SHIMADA, H. y HIROOKA, H. (2007). Evaluating Environmental Impacts of the Japanese Beefcow–Calf System by the life Cycle Assessment Method. Animal Science Journal, 78 (4), 424-432.

STEJSKALOVÁ, M.; HEJCMANOVÁ, P.; PAVLU, V. y
HEJCMAN M. (2013). Grazing Behavior and Performance of Beef Cattle as a Function of Sward Structure and Herbage Quality Under Rotational and Continuous Stocking on Species-Rich Upland Pasture. Animal Science Journal, 84 (8), 622-629.

XIE, X; MENG, Q. REN, L.; SHI, F. y ZHOU, B. (2012). Effect of Cattle Breed on Finishing Performance Carcass Characteristics and Economic Benefits under System in China Typical Beef Production. Ital. J. Anim. Sci., 11, 58. Retrieved on October 20, 2015, from http://www.dx.doi.org/10.4081/ijas.2012.e58.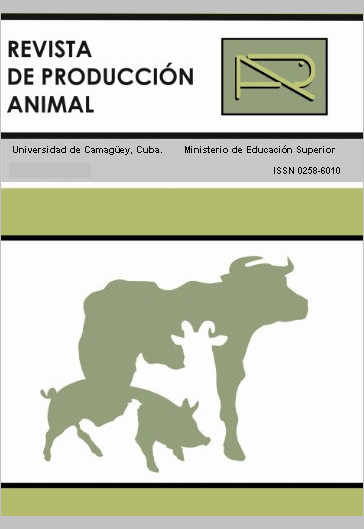 Sección
Manejo y Alimentación
Derechos de autor 2017 Revista de Producción Animal
Esta obra está bajo licencia internacional
Creative Commons Reconocimiento-NoComercial-SinObrasDerivadas 4.0
.