Market Study of Meat Processing Industry in Manabí, Ecuador
Ramón Rivadeneira García

Department of Teaching, Research and Production, Agro-industrial Degree, ESPAM MFL, Calcetas, Manabí, Ecuador

Ricardo Montesdeoca Párraga

Department of Teaching, Research and Production, Agro-industrial Degree, ESPAM MFL, Calcetas, Manabí, Ecuador

Raúl Guevara Viera

Faculty of Agricultural Sciences, University of Cuencas, Yanuncay Campus, Cuenca, Azuay, Ecuador

Arnaldo del Toro Ramírez

Faculty of Agricultural Sciences, Technical University of Manabí, Ecuador

Lino Curbelo Rodríguez

CEDEPA, Faculty of Agricultural Sciences, University of Camaguey, Cuba

Guillermo Guevara Viera

Faculty of Agricultural Sciences, University of Cuencas, Yanuncay Campus, Cuenca, Azuay, Ecuador

Carlos Torres Inga

Faculty of Agricultural Sciences, University of Cuencas, Yanuncay Campus, Cuenca, Azuay, Ecuador

Alex Roca Cedeño

Livestock Raising Degree, ESPAM MFL, Calcetas, Manabí, Ecuador
Palabras clave:
production chain, bovine, pig, analysis, quality, consumer
Resumen
A meat market study was conducted in Bolivar canton, as part of this research. The population included in the study (380 persons) was taken from the total number of inhabitants of the canton (37 262). A number of questions were made about the meat market system in the city of Calceta and other areas in Bolivar canton. Supply analysis made to several other similar products available in the area explained the behavior through time. Also included in the study were national meat processing plants that sell cured meat cuts and other meat products, in general. The chain study concluded that 96 % of meat consumers preferred fresh beef from butcheries and traditional markets, though with an increasing perception to consume safer cuts with less supermarket packing. They were also more prone to buy up to 1.8 kg/week of trademark fresh beef, sausages and smoked meat. It revealed a higher inclination to develop a local university industry offering standard processed and meat products, reducing health risks due to wrong production practices at the local slaughterhouse.
Descargas
La descarga de datos todavía no está disponible.
Citas
ELLIES-OURY, M. P.; CANTALAPIEDRA-HIJAR, G.; DURAND, D.; GRUFFAT, D.; LISTRAT, A.; MICOL, D. y PICARD, B. (2016). An Innovative Approach Combining Animal Performances, Nutritional Value and Sensory Quality of Meat. Meat Science, 122, 163-172.

FONT-I-FURNOLS, M.y GUERRERO, L. (2014). Consumer Preference, Behavior and Perception About Meat and Meat Products: An Overview. Meat Science, 98(3), 361-371.

GUEVARA, R.; CURBELO, L. y SOTO, S. (2012). Conferencia de ganado de doble propósito en el trópico americano. Maestría de Producción Animal del CEDEPA, Facultad de Ciencias Agropecuarias, Universidad de Camagüey. Cuba.

INECI (2001). Informe de proyección en el tiempo por cantones de la población en la provincia de Manabí en Ecuador. INECI.

BARCELLOS, J. O. J.; ABICHT, A. D. M.; BRANDÃO, F. S.; CANOZZI, M. E. A.y COLLARES, F. C (2012). CONSUMER Perception of Brazilian Traced Beef. Revista Brasileira de Zootecnia, 41(3), 771-774.

LOBATO, J. F. P.; FREITAS, A. K.; DEVINCENZI, T.; CARDOSO, L. L.; TAROUCO, J. U.; VIEIRA, R. M. y CASTRO, I. (2014). Brazilian Beef Produced on Pastures: Sustainable and Healthy. Meat science, 98(3), 336-345.

LUCHERK, L. W.; O'QUINN, T. G.;LEGAKO, J. F.; RATHMANN, R. J.; BROOKS, J. C.y MILLER, M. F. (2016). Consumer and Trained Panel Evaluation of Beef Strip Steaks of Varying Marbling and Enhancement Levels Cooked to Three Degrees of Doneness. Meat Science, 122, 145-154.

MALAFAIA, G. C.; BARCELLOS, J. O. J.y AZEVEDO, D. D. (2006). Construindo Vantagens Competitivas Para a Pecuária de Corte do Rio Grande do Sul: o Caso da Indicação de Procedência da "Carne do Pampa Gaúcho". Retrieved on May 10, 2015, from http://sistema.semead.com.br/9semead/resultado_semead/trabalhosPDF/408.pdf.

MORRIS, S. T. y KENYON, P. R. (2014). Intensive Sheep and Beef Production from Pasture—a New ZealandPerspective of Concerns, Opportunities and Challenges. Meat science, 98(3), 330-335.

PICASSO, V. D.; MODERNEL, P. D.; BECOÑA, G.; SALVO, L.; GUTIÉRREZ, L.yASTIGARRAGA, L. (2014). Sustainability of Meat Production Beyond Carbon Footprint: a Synthesis of Case Studies from Grazing Systems in Uruguay. Meat science, 98(3), 346-354.

RISIUS, A. y HAMM,U. (2017). The Effect of Information on Beef Husbandry Systems on Consumers' Preferences and Willingness to Pay. Meat Sciences,124, 9-14.

SEPÚLVEDA, W.; MAZA, M. T.y MANTECÓN, A. R. (2008). Factors that Affect and Motivate the Purchase of Quality-Labelled Beef in Spain. Meat Science, 80(4), 1282-1289.

VELHO, J. P.; BARCELLOS, J. O. J.; LENGLER, L.; ELIAS, S. A. A. y OLIVEIRA, T. E. (2009). Disposição dos Consumidores Porto-Alegrenses à Compra de Carne Bovina com Certificação. Revista Brasileira de Zootecnia, 38(2), 399-404.

TURP, G. Y. (2016). Effects of Four Different Cooking Methods on Some Quality Characteristics of Low Fat Inegol Meatball Enriched with Flaxseed Flour. Meat science, 121, 40-46.

ŻAKOWSKA-BIEMANS, S.; PIENIAK, Z.; GUTKOWSKA, K.; WIERZBICKI, J.; CIESZYŃSKA, K.; SAJDAKOWSKA, M. Y KOSICKA-GĘBSKA, M. (2017). Beef Consumer Segment Profiles Based on Information Source Usage in Poland. Meat Science, 124, 105-113.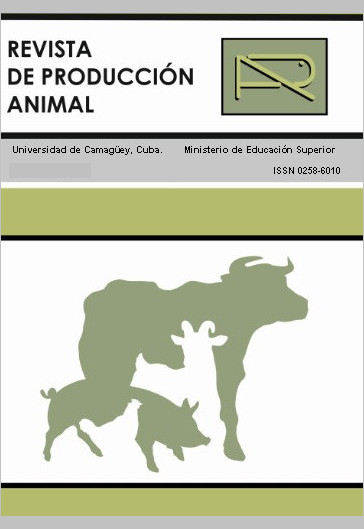 Cómo citar
Rivadeneira García, R., Montesdeoca Párraga, R., Guevara Viera, R., del Toro Ramírez, A., Curbelo Rodríguez, L., Guevara Viera, G., Torres Inga, C., & Roca Cedeño, A. (2017). Market Study of Meat Processing Industry in Manabí, Ecuador. Revista De Producción Animal, 29(2), 25-31. Recuperado a partir de https://revistas.reduc.edu.cu/index.php/rpa/article/view/2101
Sección
Manejo y Alimentación
Los autores de los artículos publicados en RPA retienen los derechos de autor de su trabajo, de marca y patente, y también sobre cualquier proceso o procedimiento descrito en el artículo, así como a compartir, copiar, distribuir, ejecutar y comunicar públicamente el artículo publicado en la RPA o cualquier parte de aquel siempre que indiquen la fuente de publicación (autores del trabajo, revista, volumen, número y fecha), pero están de acuerdo en que la revista publique los trabajos bajo una licencia Creative Commons.

Licencia Attribution-NonCommercial 4.0 International (CC BY-NC 4.0)