Essential Aminoacid Contents of Hydrolyzed Protein Supplements in the Diet of Laying Hens
Manuel Colas Chavez

Havana Agrarian University, UNAH, Faculty of Veterinary Medicine, Cuba

José Bernal Mesa

Havana Agrarian University, UNAH, Faculty of Veterinary Medicine, Cuba

Yanet Támbara Hernández

Center of Genetic Engineering and Biotechnology, Havana, Cuba

Edmundo Pérez

Havana Agrarian University, UNAH, Faculty of Veterinary Medicine, Cuba

Armando Sánchez Prieto

Havana Agrarian University, UNAH, Faculty of Veterinary Medicine, Cuba
Descargas
La descarga de datos todavía no está disponible.
Citas
BARBOZA, Y.; MÁRQUEZ, E.; Arias, B.; FARÍA, J. y CASTELLÓN, O. (1994). Utilización del plasma sanguíneo de bovino como fuente proteica en la formulación de un medio de cultivo para lactobacilos. Revista científica, 4 (1), 55-59.

BREGENDAHL, K. y ROBERT, S. A. (2009). The Ideal Amino Acid Profile for Laying Hens. Retrieved on Spetember 5, 2016, from http://www.intervet.co.th/binaries/53%20The%20Ideal%20Amino%20Acid%20Profile%20for%20Laying%20Hens_tcm125-168610.pdf.

DOS SANTOS, A. L.; CALLEJO, A.; NICOMODUS, N.; GUTIÉRRES, A. y MILLAMIDE, M. J. (2013). Exigencia nutricional de treonina digestible para gallinas ponedoras durante el período de 55 a 61 semanas de edad. 1. Nivel de producción. Congreso Científico de Avicultura, 2 al 4 de octubre, España.

GUERRERO, A.; PAZ, J.; Luz, L. S. y VARGAS, R. A. (2012). Efecto de la desnaturalización térmica e hidrólisis química de proteínas sobre la cinética de hidrólisis enzimática. Colombia: Ediciones Luz.

HUŠEK, P. (1991). Amino Acid Derivatization and Analysis in Five Minutes.
FEBS Letters, 280 (2), 354-356. Retrieved on November 21, 2016, from www.sciencedirect.com/science/journal/00145793/280/2.

JOLY, P. (2008). Reevaluation of Amino Acids Requirements for Laying Hens. Retrieved on September 23, 2016, from www.engormix.com.

JORDAO, J.; SILVA, J. y SILVA, E. L. (2006). Exigência de Lisina para poedeiras semipesadas durante o pico de postura. Revista Brasileira de Zootecnia, 35 (4), 1728-1734.

KHAN, A. I. (2014). GC Analysis of Derivatized Amino Acids. Thermo Cientific Application Note 20560. Retrieved on November 15, 2016, from http://www.tools.thermofisher.com/content/sfs/brochures/AN-20560-GC-Amino-Acids-AN20560-EN.pdf.

LABIOFAM (2007). Proceso tecnológico para la fabricación de biopreparados. Hidrolizado de proteínas. La Habana, Cuba: LABIOFAM.

NICODEMUS, N.; CALLEJO, A.; CALLE, A.; GUTIÉRREZ, A.; VILLAMIDE, M. J. y PÉREZ, P. (2011). Relación óptima de metionina+cistina/lisina digestibles en gallinas Isa Brown de 34 a 42 semanas de edad. XIV Jornadas sobre Producción Animal, Madrid, España.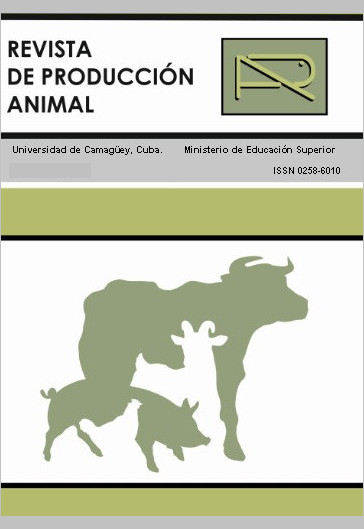 Cómo citar
Colas Chavez, M., Bernal Mesa, J., Támbara Hernández, Y., Pérez, E., & Sánchez Prieto, A. (2018). Essential Aminoacid Contents of Hydrolyzed Protein Supplements in the Diet of Laying Hens. Revista De Producción Animal, 29(2), 73-76. Recuperado a partir de https://revistas.reduc.edu.cu/index.php/rpa/article/view/2223
Los autores de los artículos publicados en RPA retienen los derechos de autor de su trabajo, de marca y patente, y también sobre cualquier proceso o procedimiento descrito en el artículo, así como a compartir, copiar, distribuir, ejecutar y comunicar públicamente el artículo publicado en la RPA o cualquier parte de aquel siempre que indiquen la fuente de publicación (autores del trabajo, revista, volumen, número y fecha), pero están de acuerdo en que la revista publique los trabajos bajo una licencia Creative Commons.

Licencia Attribution-NonCommercial 4.0 International (CC BY-NC 4.0)