Effects of Supplementation with Microminerals on Production Indicators and Blood, Feces, and Urine Traces of Grazing Alpaca (Lama lama)
Luis Alonso Chicaiza

Academic Unit of Agricultural Sciences and Natural Resources, Veterinary Medicine Degree, Technical University of Cotopaxi, Ecuador

Cristian Arcos Alvarez

Academic Unit of Agricultural Sciences and Natural Resources, Veterinary Medicine Degree, Technical University of Cotopaxi, Ecuador

Paola Lascano Armas

Academic Unit of Agricultural Sciences and Natural Resources, Veterinary Medicine Degree, Technical University of Cotopaxi, Ecuador

Julio Enrique Usca

Faculty of Animal Sciences, Higher Polytechnic School of Chimborazo, Riobamba, Ecuador

Francisco Hernán Chancusig

Academic Unit of Agricultural Sciences and Natural Resources, Veterinary Medicine Degree, Technical University of Cotopaxi, Ecuador

Jorge Armas Cajas

Academic Unit of Agricultural Sciences and Natural Resources, Veterinary Medicine Degree, Technical University of Cotopaxi, Ecuador

Hernán Bastidas Pacheco

Academic Unit of Agricultural Sciences and Natural Resources, Veterinary Medicine Degree, Technical University of Cotopaxi, Ecuador

Maira Martínez Freire

Academic Unit of Agricultural Sciences and Natural Resources, Veterinary Medicine Degree, Technical University of Cotopaxi, Ecuador

Silvana Méndez García

Faculty of Agricultural Sciences, University of Cuenca, Yanuncay Campus, Cuenca, Azuay, Ecuador

Manuel Soria Parra

Faculty of Agricultural Sciences, University of Cuenca, Yanuncay Campus, Cuenca, Azuay, Ecuador

Gonzalo López Crespo

Faculty of Agricultural Sciences, University of Cuenca, Yanuncay Campus, Cuenca, Azuay, Ecuador

Raúl Guevara Viera

Faculty of Agricultural Sciences, University of Cuenca, Yanuncay Campus, Azuay province, Ecuador
Palabras clave:
south American camelids, fleece characterisitics, mineral nutrition, grazing, organic fluids
Resumen
To analyze the effect of additional microminerals in the diet supplement on weight and diameter of alpaca fiber, the application of three doses of selenium and zinc (0.0; 1.0; and 1.5 cc) on the diet, on CRD factorial arrangement (3 x 2) + (3 x 2), was assessed. The results showed statistically significant differencences for treatments: selenium doses, ages, zinc doses, and for zinc interaction by ages (Se1E2 with 74.33 kg at 90 days, for height at the withers, Zn1E2, averaging 91.33 cm). Fiber length for treatments Se1E1 and Se1E2 averaged 3 cm. For fiber diameter, treatments 1 (Se0E1) and Se1E1, group 1, and treatments Zn0E2 and Zn1E1, group 2, showed the best fiber quality (P < 0.05), averaging 28 microns. Live weight and fiber quality from mature animals based on supplementation with Se and Zn had beneficial effects, which improved phenotypical features of production, like live weight, though residues were found in 3-5 year old animals.
Descargas
La descarga de datos todavía no está disponible.
Citas
ANCASSI, M. (2012). Guía técnica de mejoramiento genético en alpacas. Puno, Perú: OAEPS.

DE LOS RÍOS, E. (2006). Producción textil de fibras de camélidos sudamericanos en el área altoandina de Bolivia, Ecuador y Perú. Retrieved on March 6, 2015, fromhttps://www.unido.org/file-storage.

DEL RAZO, L. y MC DOWELLS, R. (2013). Effects of Dietary Level of Selenium and Grain on Digestive Metabolism in Lambs. Czech Journal of Animal Science, 58, (6), 253-262.

FRANK, E. N.; HICK, M. V. H.; GAUNA, C.D.; LAMAS, H.E; RENIERI, C. y ANTONINI, M. (2006). Phenotypic and Genetic Description of Fibre Traits in South American Domestic Camelids (Llamas and Alpacas). Small Ruminant Research, 61, 113-129.

GONZÁLEZ, M. (2004). Longitud de mecha y diámetro de fibra de alpacas en comunidades de Puna seca (Ocuviri, Lampa, Puno) y Puna húmeda (Pitumarca Canchis, Cusco). V Congreso mundial sobre camélidos, Riobamba, Ecuador.

GUTIÉRREZ, J. P.; GOYACHE, F.; BURGOS, A. y CERVANTES, I. (2009). Genetic Analysis of Six Production Traits in Peruvian Alpacas. Livestock Science, 123, 193-197.

HUANCA, A. N. (2007). Defectos congenitos y hereditarios visibles en alpacas de dos zonas representativas de la region Puno. Cusco, Perú: APPA-ALPA.

LUPTON, C. J.; MCCOLL, A. y STOBART, R. H. (2006). Fiber Characteristics of the Huacaya Alpaca. Small Ruminant Research, 64, 211-224.

MCGREGOR, B. A. (2006). Production, Attributes and Relative Value of Alpaca Fleeces in Southern Australia and Implications for Industry Development. Small Ruminant Research, 61, 93-111.

MCGREGOR, B. A. y BUTLER, K. L. (2004). Sources of Variation in Fibre Diameter Attributes of Australian Alpacas and Implications for Fleece Evaluation and Animal Selection. Austr. J. of Agr. R., 55, 433-442.

MONTES, M.; QUICAÑO, I.; QUISPE, R.; QUISPE, E. y ALFONSO, L. (2008). Quality Characteristics of Huacaya Alpaca Fibre Produced in the Peruvian Andean Plateau Region of Huancavelica. Spanish Journal of Agricultural Research, 6 (1), 33-38.

PARI, N. (2012). Comportamiento del Mercado Mundial de la Fibra de Alpaca. Agrónomos y Veterinarios sin Fronteras en el Marco del Proyecto Binacional Alpaca.

POISSONNET, R. (2012). Iniciativas de transformación de la fibra de alpaca por los alpaqueros y alpaqueras. Límites y oportunidades. Agrónomos y Veterinarios sin Fronteras en el Marco del Proyecto Binacional alpaca.

QUISPE, E. C.; RODRÍGUEZ, T. C.; ÍÑIGUEZ, L. R. y MUELLER, J. P.(2009). Producción de fibra de alpaca, llama, vicuña y guanaco en Sudamérica. Universidad Nacional de Huancavelica, Huancavelica, Perú; Universidad Mayor de San Andrés, La Paz, Bolivia; Cochabamba, Bolivia; Instituto Nacional de Tecnología Agropecuaria, Bariloche, Argentina. Food and Agriculture Organization of the United Nations.

REYES, A. (2009). Programa en mejoramiento de camélidos sudamericanos (PROCASUD). Facultad de Ciencias, Universidad de Huancavelica. Extraído el 18 de marzo de 2015, desde http://wiki.sumaqperu.com/es/Los_Cam%C3%A9lidos.

RUIZ, F.; RODRÍGUEZ, L. y GUTIÉRREZ, L. (2009). Evaluación de la eficiencia y tolerancia de una solución inyectable sobre la base de ADN, ATP, Aminoacidos, Vitamina B12 y Selenio en alpacas de la sierra central. Agrovetmarket, 6-11.

SEGOVIA, F. (2011). La realidad de las alpacas en el Ecuador con enfásis en el caso de Chimborazo. Riobamba, Ecuador.

UNGER, M. y CHIAPE, B. (2008). Importancia fisiologica de los minerales en el metabolismo oseo. REDVET, 29, 32-26.

VILCA, J. (2011). La situacion de los Hatos Alpaqueros de la UNOCANC en 2010. Foro Realidad de las alpacas en el Ecuador. Cotopaxi, Ecuador.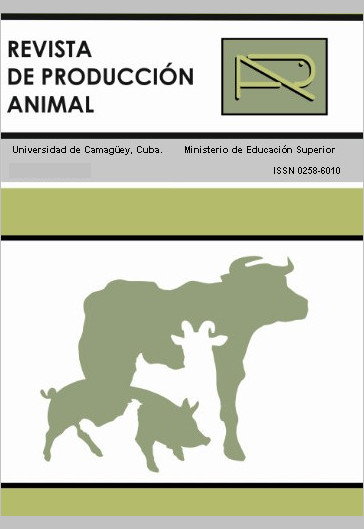 Cómo citar
Alonso Chicaiza, L., Arcos Alvarez, C., Lascano Armas, P., Enrique Usca, J., Hernán Chancusig, F., Armas Cajas, J., Bastidas Pacheco, H., Martínez Freire, M., Méndez García, S., Soria Parra, M., López Crespo, G., & Guevara Viera, R. (2018). Effects of Supplementation with Microminerals on Production Indicators and Blood, Feces, and Urine Traces of Grazing Alpaca (Lama lama). Revista De Producción Animal, 28(2-3), 26-33. Recuperado a partir de https://revistas.reduc.edu.cu/index.php/rpa/article/view/2256
Sección
Manejo y Alimentación
Los autores de los artículos publicados en RPA retienen los derechos de autor de su trabajo, de marca y patente, y también sobre cualquier proceso o procedimiento descrito en el artículo, así como a compartir, copiar, distribuir, ejecutar y comunicar públicamente el artículo publicado en la RPA o cualquier parte de aquel siempre que indiquen la fuente de publicación (autores del trabajo, revista, volumen, número y fecha), pero están de acuerdo en que la revista publique los trabajos bajo una licencia Creative Commons.

Licencia Attribution-NonCommercial 4.0 International (CC BY-NC 4.0)