Volume and Surface Area Calculation based on Measurements of Egg Diameter, and Correlation with Other Inner and Outer Features for Three Purposes of Breeding Chickens
Sahirys Casas Rodríguez

Faculty of Agricultural Sciences, Ignacio Agramonte Loynaz University of Camagüey, Cuba

Luis Guerra Casas

Faculty of Agricultural Sciences, Ignacio Agramonte Loynaz University of Camagüey, Cuba

Ángel Ceró Rizo

Faculty of Agricultural Sciences, Ignacio Agramonte Loynaz University of Camagüey, Cuba

Florentino Uña Izquierdo

Faculty of Agricultural Sciences, Ignacio Agramonte Loynaz University of Camagüey, Cuba
Palabras clave:
eggs, breeding chickens, volume calculation, surface area calculation
Resumen
A completely randomized experimental design for the three purposes to use egg diameter for volume and surface area calculation, and correlation with other inner and outer features of breeding hens, was performed. Eggs from light breeds (3 554), heavy breeds (1 011), and turquino breeds (2 537), 2-3, 7-8, and 10-11 months of laying, respectively, were used (totaling 7 102 eggs). The values for volume calculation (Kv) were 0.531 and 0.527, for heavy and turquino breeds. The values for the surface area calculation (Ks) ranged between 2.885 and 2.866, for heavy and light breeds, respectively. The volumes achieved for heavy and turquino breeds were 52.46-57.11 mm3, respectively. Surface area ranged between 64.23 and 71.71 mm2. The yolk, white, and Haugh indexes showed significant differences (P < 0.05) for the three purposes, due to storage time before incubation. The results proved that the eggs studied for the three purposes of breeding chickens, generally have satisfactory inner and outer characteristics that guarantee incubation efficiency.
Descargas
La descarga de datos todavía no está disponible.
Citas
ABANIKANNDA, O. T.; OLUTOGUN, F. O.; LEIGH, A. O. y AJAYI, L. A. (2007). Statistical Modeling of Egg Weight and Egg Dimensions in Commercial Layers. Ibadan, Nigeria: Department of Zoology, Lagos State University, Department of Animal Science.

AFOLABI, K. D.; AKINSOYINU, A. O.; OMOJOLA, A. B. y ABU, O. A. (2012). The Performance and Egg Quality Traits of Nigerian Local Hens Fed Varying Dietary Levels of Palm Kernel Cake with Added Palm Oil. Poultry Science Res., 21, 588-594. Retrieved on DEcember 8, 2014, from http//kaydafl@yahoo.com.

BATISTA, Y. (2010). Cálculo del volumen y la superficie de huevos a partir de sus diámetros en Turquinos y White Leghorn (L32). Cuba: Empresa Avícola de Camagüey y Universidad de Camagüey, Cuba.

BOERJAN, M. (2004). Single Stage Incubation is the Most Natural Choise. World Poultry, 20 (7), 18-20.

BRENES, A. (1993). Effect of betaglucanase/Pentaosanase Enzyme Suplementation on the Performance of Chickens and Laying Hens fid Wheat, Barley, Naked Oats and Rye Diets. Canadá: Department of Animal Science, University of Manitoba.

CASTAÑEDA, P.; ÁVILA, A. y ESQUIVEL, J. (2001). Efecto de altos niveles de hierro adicionados a la dieta de reproductoras ligeras sobre parámetros productivos e incubabilidad. Memorias del XVII Congreso Latinoamericano de Avicultura, Guatemala.

FAO (2002). Practical Poultry Raising. Poultry Husband, Marketing and Finace. Agriculture C.D. Peace Corp. Information collection & Exchance.

FAO (2011). Livestock in Food Security. World Livestock. Roma: FAO.

FAO (2012). Food Outlook. Rome: Trade and Market Division of FAO.

GIL DE LOS SANTOS, J. R.; FORNARI, C. M. y TÉO, M. A. (2007). Influência da qualidade da casca do ovo sobre índices de produtividade de um incubatório industrial. Ciência Rural, Santa Maria, 37 (2), 524-527.

GUERRA, L. (2006). Potencial productivo de los huevos de gallina reproductoras White Leghorn clasificados como no aptos por su peso y forma. Tesis de doctorado en Ciencias Veterinarias, Camagüey, Cuba.

IQBAL, A.; AKRAM, M.; SAHOTA, A. W.; JAVED, K.; HUSSAIN, J.; SARFRAZ, Z. y MEHMOOD, S. (2012). Laying Characteristics and Egg Geometry of Four Varieties of Indigenous Aseel Chicken in Pakistan. J. Anim. Plant Sci, 22 (4), 848-852.

LÓPEZ, A.; PINILLOS, M. y PÉREZ. E. (1997). Manual de teoría, cría y explotación de las aves. (tomo II). La Habana, Cuba: ISCAH.

MONIRA, K. N.; SALAHUDDIN, M. y MIAH, G. (2003). Effect of Breed and Holding Period on Egg Quality Characteristics of Chicken. International Journal of Poultry Science, 2 (4), 261-263.

MRÓZ, E., STĘPIŃSKA, M. y KRAWCZYK, M. (2014). Morphology and chemical composition of turkey eggs. The Journal of Applied Poultry Research, 23 (2), 196-203.

NARUSHIN, V. (2005). Production, Modeling, and Education Egg Geometry Calculation using the Measurements of Length and Breadth. Poultry Science, 84, 482-48.

PERUZZI, N. J.; SCALA, N. L.; MACARI, M.; FURLAN, R. L.; MEYER, A. D.; FERNÁNDEZ-ALARCON, M. F.; KROETZ, F. L. y SOUZA F. A. (2012). Fuzzy Modeling to Predict Chicken Egg Hatchability in Commercial Hatchery. Production, Modeling, and Education. Poultry Science, 91,
2710-2717. Retrieved on November 18, 2014, fromhttp://dx.doi.org
/10.3382/ps.2011-01878.

SÁNCHEZ, A. (2014). Comportamiento del volumen teórico y las superficies del huevo en reproductores ligeros. Cuba: Empresa Avícola de Camagüey yUniversidad de Camagüey.

SARDÁ, R. (2005). Calidad de los huevos para la incubación. Curso de postgrado, Camagüey, Cuba.

SMITH, M.; RODRÍGUEZ, J.; y COLLIN, L. (1998). Niveles de energía y proteína, para aves reproductoras ligeras. Revista Cubana de Ciencias Avícolas, 22 (2), 163-168.

SPSS. (2012). Statistical Package for Social Sciences (v. 18.0). EE.U.

STEPHENSON, P.; MAYER, J. y DAVIS, M. (1999). Maintaining Quality in Fertile and Infertile Hen Eggs. Rev. World Poultry, 15, 9, 15.

SUMMERS, J. (2004). El increíble huevo. Revista Avicultura profesional, 22 (1), 24-26.

UECAN (2003). Instructivo técnico de tecnología de crianza y regulaciones sanitarias generales de reproductores ligeros y sus reemplazos. Cuba: Instituto de Investigaciones Avícolas, MINAGRI.

VARGAS, J. (2008). Caracterización y comportamiento incubatorio de huevos clasificados como "no aptos" por su peso y forma procedentes de reproductoras ligeros, semirrústico y pesados en Camagüey, Cuba. Tesis de doctorado en Medicina Veterinaria y Zootecnia.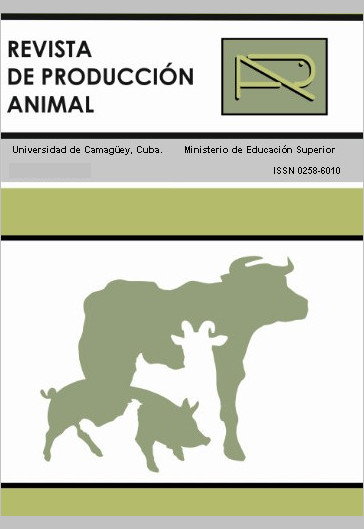 Cómo citar
Casas Rodríguez, S., Guerra Casas, L., Ceró Rizo, Ángel, & Uña Izquierdo, F. (2018). Volume and Surface Area Calculation based on Measurements of Egg Diameter, and Correlation with Other Inner and Outer Features for Three Purposes of Breeding Chickens. Revista De Producción Animal, 28(2-3), 33-38. Recuperado a partir de https://revistas.reduc.edu.cu/index.php/rpa/article/view/2257
Sección
Genética y Reproducción
Los autores de los artículos publicados en RPA retienen los derechos de autor de su trabajo, de marca y patente, y también sobre cualquier proceso o procedimiento descrito en el artículo, así como a compartir, copiar, distribuir, ejecutar y comunicar públicamente el artículo publicado en la RPA o cualquier parte de aquel siempre que indiquen la fuente de publicación (autores del trabajo, revista, volumen, número y fecha), pero están de acuerdo en que la revista publique los trabajos bajo una licencia Creative Commons.

Licencia Attribution-NonCommercial 4.0 International (CC BY-NC 4.0)