In Vitro Ovicidal Effect of Crude Hydro-Alcoholic Extract on Pouteria sapota (Mamey sapote) Seeds Against Haemonchus contortus Eggs. First Report
Anay Delgado

Morphophysiology Department, University of Camagüey, Cuba

Olimpia Núñez

Morphophysiology Department, University of Camagüey, Cuba

Lester Aguilera-Valle

Morphophysiology Department, University of Camagüey, Cuba

Danays Palacio

Veterinary Department, University of Camagüey, Cuba

Josmel Salas-Romero

Veterinary Department, University of Camagüey, Cuba

Gisell Bebert

Morphophysiology Department, University of Camagüey, Cuba

Misleidi González

Veterinary Department, University of Camagüey, Cuba

Noemí Fernández

Veterinary Department, University of Camagüey, Cuba
Palabras clave:
anthelmintic, egg hatching test, Pouteriasapota, Haemonchus contortus, plant therapy
Resumen
The crude alcoholic extract of Pouteria sapota seeds is traditionally used as a pediculicide in Cuba. This study was made in order to evaluate the in vitro anthelmintic effect of crude hydro-alcoholic extract of Pouteria sapota seeds on Haemonchus contortus eggs. A hatching test was performed, in which several concentrations of the extract were tested for concentrations of 0.08-5.32 mg/mL. In comparison with the negative control group, a significant ovicidal effect was observed (P < 0.05), with 100% hatching inhibition to the greatest concentration used (5.32 mg/mL). These results suggest that P. sapota has an anthelmintic effect against H. contortus.
Descargas
La descarga de datos todavía no está disponible.
Citas
ALAWA, C. B.; ADAMU, A. M.; GEFU, J. O.; AJANSUI, O. J.; ABDU, P. A.; CHIEZEY, N. P. y BOWMAN, D. D. (2003). In vitro Screening of Two Nigerian Medicinal Plants (Vernonia amiygdalina and Annona senegalensis) for Anthelmintic Activity. Veterinary Parasitology, 113 (1), 73-81.

ASSIS, L. M.; BEVILAQUA, M. L.; MORAIS, S. M.; VIEIRA, L. S.; COSTA, T. C.; SOUZA, A. L. (2003). Ovicidal and Larvicidal Activity In Vitro of Spigelia Anthelmia Linn. Extracts on Haemonchus Contortus.Veterinary Parasitology, 117 (1), 43-49.

BOTURA, M.; DOS SANTOS, J. D.; DA SILVA, G. D.; DE LIMA, H. G.; DE OLIVEIRA, J. V. y DE ALMEIDA, M. A. (2013). In Vitro Ovicidal and Larvicidal Activity of Agave Sisalana Perr. (Sisal) on Gastrointestinal Nematodes of Goats. Veterinary Parasitology, 192 (1), 211-217.

CARRIÇO, C.; PINTO, Z.; DUTOK, C.; CAETANO, R.; PESSANHA, R.; CHIL-NUÑEZ, I. y QUEIROZ, M. (2014). Biological Activity of Pouteria Sapota Leaf Extract on Post-Embryonic Development of Blowfly Chrysomya Putoria (Wiedemann, 1818) (Calliphoridae). Brazilian Journal of Pharmacognosy, 24 (3), 304-308.

COLES, G. C.; BAUER, C.; BORGSTEEDE, H. M.; GREETS, S.; KLEI, T. R. y TAYLOR, M. A. (1992). World Association for the Advancement of Veterinary Parasitology (WAAVP) Methods for the Detection of Anthelmintic Resistance in Nematodes of Veterinary Importance. Veterinary Parasitology, 44 (1), 35-44.

FERREIRA, L. E.; CASTRO, M. N.; CHAGAS, C. S.; FRANÇA, S. C y BELEBONI, R. O. (2013). In Vitro Anthelmintic Activity of Aqueous Leaf Extract of Annona Muricata L. (Annonaceae) Against Haemonchus Contortus from Sheep. Experimental Parasitology, 134 (3), 327-332.

HERNÁNDEZ-VILLEGAS, M. M.; BORGES-ARGÁEZ, R.; RODRÍGUEZ-VIVAS, R. I.; TORRES-ACOSTA, F. J.; MÉNDEZ-GONZÁLEZ, M. y CÁCERES-FARFAN, M. (2011). Ovicidal and Larvicidal Activity of the Crude Extracts from Phytolaccai Cosandra Against Haemonchus Contortus. Veterinary Parasitology, 179 (1), 100-106.

KERBOEUF, D.; RIOU, M. y GUÉGNARD, F. (2008). Flavonoids and Related Compounds in Parasitic Disease Control. Mini Rev. Med. Chem., 8 (2), 116-128.

MANSFIELD, L. S.; GAMBLE, H. R. y FETTERER, R. H. (1992). Characterization of the Eggshell of Haemonchus Contortus–l. Structural Components. Comp. Biochem., 103 (3), 681-686.

MOLENTO, M.; FORTES, F.; PONDELEK, D.; BORGES, F.; CHAGAS, A. y TORRES-ACOSTA, J. F. (2011). Challenges of nematode control in ruminants: Focus on Latin America. Veterinary Parasitology, 180 (1), 126-132.

PENELUC, T.; DOMINGUES, L. F.; ALMEIDA, G. N.; Ayres, M. C.; Moreira, E. L. y Cruz, A. C (2009). Anthelmintic Activity of Aqueous Extract of Zanthox-ylum Rhoifolium Lam. Leaves (Rutaceae). Revista Brasileira Parasitologia Veterinaria, 18 (1), 43-48.

POWERS, K. G.; WOOD, I. B.; ECKERT, J.; GIBSON, T. y SMITH, H. J. (1982). World Associations of the Advancement of Veterinary Parasitology (W.A.A.V.P.) Guidelines for Evaluating the Efficacy of Anthelmintics in Ruminants (Bovine and Ovine). Veterinary Parasitology, 10 (4), 265-284.

RODRÍGUEZ, A. B.; ATHAYDE, A. C.; RODRÍGUEZ, O. G.; SILVA, W. W. y FARIA, E. B. (2007). Evaluation of the Efficacy of Anthelmintics to Control Gastrointestinal Nematodes in Goats Raised in the State of Paraiba. Pesquisa Veterinaria Brasileira, 27 (4), 162-166.

ROIG, J. T. (1988). Plantas Medicinales, aromáticas o venenosas de Cuba. La Habana, Cuba: Editorial Científico Técnica.

SILVA, C.; SIMEONI, L. y SILVEIRA, D. (2009). Genus Pouteria: Chemistry and Biological Activity. Brazilian Journal of Pharmacognosy, 19 (2A), 501-509.

WANG, X. B.; LI, G. H.; LI, L.; ZHENG, L. J.; HUANG, R. y ZHANG, K. Q. (2008). Nematicidal Coumarins from Heracleum candicans Wall. Nat. Prod. Res., 22 (8), 66-671.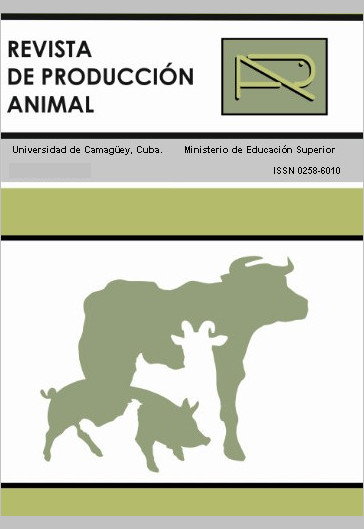 Cómo citar
Delgado, A., Núñez, O., Aguilera-Valle, L., Palacio, D., Salas-Romero, J., Bebert, G., González, M., & Fernández, N. (2018). In Vitro Ovicidal Effect of Crude Hydro-Alcoholic Extract on Pouteria sapota (Mamey sapote) Seeds Against Haemonchus contortus Eggs. First Report. Revista De Producción Animal, 28(2-3), 51-54. Recuperado a partir de https://revistas.reduc.edu.cu/index.php/rpa/article/view/2261
Los autores de los artículos publicados en RPA retienen los derechos de autor de su trabajo, de marca y patente, y también sobre cualquier proceso o procedimiento descrito en el artículo, así como a compartir, copiar, distribuir, ejecutar y comunicar públicamente el artículo publicado en la RPA o cualquier parte de aquel siempre que indiquen la fuente de publicación (autores del trabajo, revista, volumen, número y fecha), pero están de acuerdo en que la revista publique los trabajos bajo una licencia Creative Commons.

Licencia Attribution-NonCommercial 4.0 International (CC BY-NC 4.0)