Fodder, Nitrogen, and Energy Balances in Grasslands with Algarroba Trees (Prosopis juliflora (S.W.) DC.) under Dairy Cow Grazing
Alex J. Roca Cedeño

Higher Polytechnic School of Agriculture, Manabí, MFL, Sitio El Limón, Calceta, Republic of Ecuador

Paola J. Lascano Armas

Academic Unit of Agricultural Sciences and Natural Resources (UA-CAREN), Veterinary Medicine Degree, Technical University of Cotopaxi, Latacunga, Ecuador

Cristian N. Arcos Álvarez

Academic Unit of Agricultural Sciences and Natural Resources (UA-CAREN), Veterinary Medicine Degree, Technical University of Cotopaxi, Latacunga, Ecuador

Nancy M. Cueva Salazar

Academic Unit of Agricultural Sciences and Natural Resources (UA-CAREN), Veterinary Medicine Degree, Technical University of Cotopaxi, Latacunga, Ecuador

Elsa J. Molina Molina

Academic Unit of Agricultural Sciences and Natural Resources (UA-CAREN), Veterinary Medicine Degree, Technical University of Cotopaxi, Latacunga, Ecuador

Lino M. Curbelo Rodríguez

Ignacio Agramonte Loynaz University of Camagüey, Cuba

Raúl V. Guevara Viera

Faculty of Agricultural Sciences, School of Veterinary Medicine and Zootechnical Studies, University of Cuenca, Yanuncay Campus, Ecuador

Guillermo E. Guevara Viera

Faculty of Agricultural Sciences, School of Veterinary Medicine and Zootechnical Studies, University of Cuenca, Yanuncay Campus, Ecuador

Francisco Hernán Chancusig

Academic Unit of Agricultural Sciences and Natural Resources (UA-CAREN), Veterinary Medicine Degree, Technical University of Cotopaxi, Latacunga, Ecuador

Carlos S. Torres Inga

Faculty of Agricultural Sciences, School of Veterinary Medicine and Zootechnical Studies, University of Cuenca, Yanuncay Campus, Ecuador

Pedro E. Nieto Escandón

Faculty of Agricultural Sciences, School of Veterinary Medicine and Zootechnical Studies, University of Cuenca, Yanuncay Campus, Ecuador

Guillermo V. Serpa García

Faculty of Agricultural Sciences, School of Veterinary Medicine and Zootechnical Studies, University of Cuenca, Yanuncay Campus, Ecuador
Resumen
The purpose of this study was to evaluate the effect of algarroba (Prosopis juliflora (S.W.) DC.) on fodder, nitrogen and energy contents in Ecuadoran dairy farm grasslands. The study was made at ESPAM bovine facility, 15 meters above sea level, in Manabí, 00º49'23'', south latitude, and 80º11'01" west longitude, with 962.4 mm of annual precipitation, between September 2011 and December 2014. The stocking rate was 1.09 LU/ha. The areas were populated with 1-4 algarroba trees/ha by 2011, and 8-35 trees/ha, in 2014. Fodder, nitrogen, and energy balances depended on the arborization degree. As a result, 52 t of DM were estimated in 2014, in comparison to the 21 t produced in 2011. Nitrogen was higher with increased arborization between 2011 (60.9 kg/ha), greater nutrient intake from external sources, and 2014 (39.3 kg/ha), with less use of supplements and mineral fertilizers, and greater N2 contribution by arborization. The energy values were higher in 2014, with an increase in algarroba population/ha. The rise in trees/ha in 2014 favored forage yields, with improved N2 and energy efficiency, which was linked to the benefits acquired by the grassland, the contribution of nitrogen to the ecosystem, and the reduction in feed and fertilizer consumption, which led to energy savings.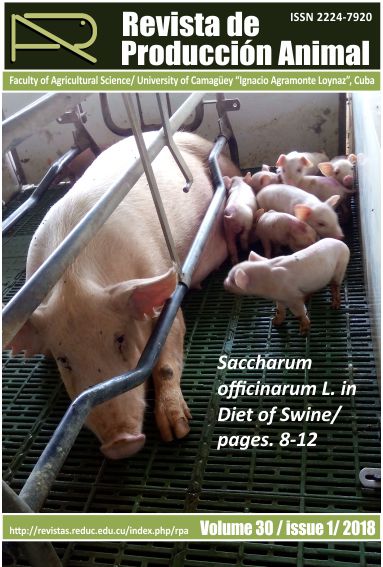 Sección
Manejo y Alimentación
Derechos de autor 2018 Revista de Producción Animal
Esta obra está bajo licencia internacional
Creative Commons Reconocimiento-NoComercial-SinObrasDerivadas 4.0
.