Assessment of two Superovulation Protocols for Embryo Production in Holstein Cows
Manuel E. Soria Parra

University of Cuenca, Yanuncay Campus, Ecuador

Carlos A. Soria Parra

University of Cuenca, Yanuncay Campus, Ecuador

Silvana Méndez Álvarez

University of Cuenca, Yanuncay Campus, Ecuador

Daniel Argudo Garzón

University of Cuenca, Yanuncay Campus, Ecuador

Guillermo Serpa García

University of Cuenca, Yanuncay Campus, Ecuador

Carlos Torres Inga

University of Cuenca, Yanuncay Campus, Ecuador

Andrés Galarza Lucero

University of Cuenca, Yanuncay Campus, Ecuador
Resumen
The aim of this paper was to compare the effects of two superovulation protocols (synchronization of the follicular wave (SFW), and natural estrus (NE) induction of embryos produced for transference in Holstein cows. Twenty cows were chosen as donors, with a body condition (BC) of 2.75-3.5; 40-60 months old; 1-2 previous gestation services, and without reproductive problems. Two superovulation protocols were applied: SFW and NE. SFW was not observed to produce more embryos than NE in the blastocysts and morula stages.
Descargas
La descarga de datos todavía no está disponible.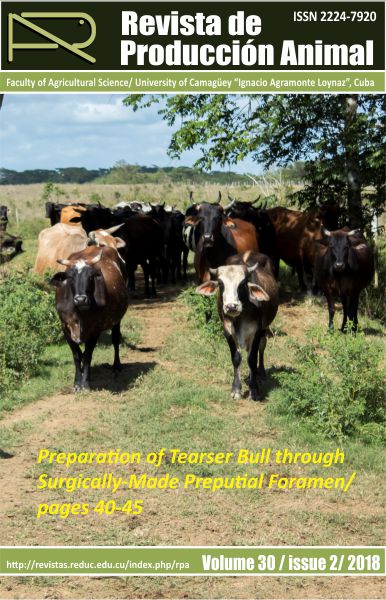 Cómo citar
Soria Parra, M. E., Soria Parra, C. A., Méndez Álvarez, S., Argudo Garzón, D., Serpa García, G., Torres Inga, C., & Galarza Lucero, A. (2018). Assessment of two Superovulation Protocols for Embryo Production in Holstein Cows. Revista De Producción Animal, 30(2), 54-58. Recuperado a partir de https://revistas.reduc.edu.cu/index.php/rpa/article/view/2434
Sección
Genética y Reproducción
Los autores de los artículos publicados en RPA retienen los derechos de autor de su trabajo, de marca y patente, y también sobre cualquier proceso o procedimiento descrito en el artículo, así como a compartir, copiar, distribuir, ejecutar y comunicar públicamente el artículo publicado en la RPA o cualquier parte de aquel siempre que indiquen la fuente de publicación (autores del trabajo, revista, volumen, número y fecha), pero están de acuerdo en que la revista publique los trabajos bajo una licencia Creative Commons.

Licencia Attribution-NonCommercial 4.0 International (CC BY-NC 4.0)