Efficacy of Three Ectoparasiticides vs Rhipicephalus microplus
Darien Nápoles Vega

Faculty of Agricultural Sciences, University of Camagüey, Cuba

Kenia Milagro Sebasco Rodríguez

Faculty of Agricultural Sciences, University of Camagüey, Cuba

Yunaisy Guerra Llorens

Faculty of Agricultural Sciences, University of Camagüey, Cuba

Juan Diego Mencho Ponce

Faculty of Agricultural Sciences, University of Camagüey, Cuba
Resumen
The effect of three ectoparasiticides —cipermetrin, amitraz, and Ivermectrin— on Rhipicephalus microplus was evaluated. Ingurgitated female ticks were taken out of cattle at a cattle genetic research farm. Once the female ticks lay their eggs, they were centrifuged at room temperature. After egg hatching, a hundred larvae 14-21 days old, were sampled on 2 x 2 cm filter paper strips upon the larvoscopic examination using impregnated filter paper. Four ecto- parasiticide concentrations with three replicas each were evaluated. Every ectoparasiticide was tested for its effect on each sample in a 1 ml dose and increasing concentrations of 0.05 %, 0.125 %, 0.250 %, and 0.5 %; whereas the con- trol group was administered castor oil. The larvae under medication in the trials remained 24 hr. in the dark at room temperature, followed by a living-and-dead specimen counting. The data were processed by the statistical package SPSS (version 15.0). Acarid likelihood mortality percentage associated with ectoparasiticide kind and concentration variables was estimated by the Probit Regression technique. Treatment was less effective for cipermetrin (37.1 %), rather than amitraz and Ivermectrin (89.9 % and 73,3 %, respectively) at similar concentrations. Further evaluations of ectoparasiticide efficacy for cattle under ranching conditions and the implementation of techniques to diagnose re- sistance to acaricides are recommended.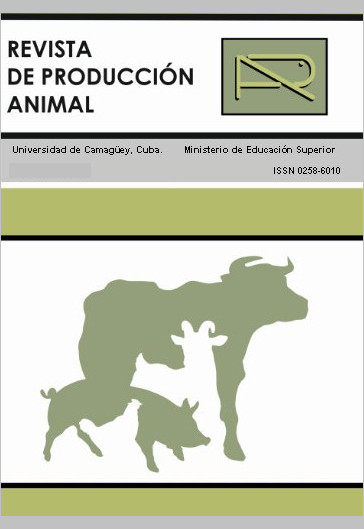 Cómo citar
Nápoles Vega, D., Sebasco Rodríguez, K. M., Guerra Llorens, Y., & Mencho Ponce, J. D. (2018). Efficacy of Three Ectoparasiticides vs Rhipicephalus microplus. Revista De Producción Animal, 25(1), 41-45. Recuperado a partir de https://revistas.reduc.edu.cu/index.php/rpa/article/view/2521
Sección
Manejo y Alimentación
Los autores de los artículos publicados en RPA retienen los derechos de autor de su trabajo, de marca y patente, y también sobre cualquier proceso o procedimiento descrito en el artículo, así como a compartir, copiar, distribuir, ejecutar y comunicar públicamente el artículo publicado en la RPA o cualquier parte de aquel siempre que indiquen la fuente de publicación (autores del trabajo, revista, volumen, número y fecha), pero están de acuerdo en que la revista publique los trabajos bajo una licencia Creative Commons.

Licencia Attribution-NonCommercial 4.0 International (CC BY-NC 4.0)