Caracterización fenotípica de cepas autóctonas de Escherichia coli enterotoxigénicas 987P
Roberto Basulto Bake

Centro de Ingeniría Genética y Biotecnología. Camagüey

Lesvia Calzada Aguilera

Centro de Ingeniría Genética y Biotecnología. Camagüey

Jesús A Junco Barranco

Centro de Ingeniría Genética y Biotecnología. Camagüey

Tania Olivera Gutiérrez

Centro de Ingeniría Genética y Biotecnología. Camagüey
Resumen
Se reporta el empleo de un fragmento del gen que codifica para la subunidad fímbrica 987P como sonda de ADN para detectar la presencia de cepas autóctonas 987P+ en 117 aislamientos de E. coli realizados en granjas porcinas de la provincia de Camagüey, Cuba. Del total de animales muestreados (77 cerdos neonatos), 4 (5,2 %) estaban infectados con cepas de E. coli portadoras del gen para la fimbria 987P, las que resultaron fenotípicamente 987P positivas por el sistema inmunoenzimático ELISA y Western-blot. Teniendo en cuenta los resultados obtenidos proponemos emplear la hibridación ADN-ADN para realizar un estudio epizootiológico más extenso, con el objetivo de conocer el grado de incidencia de la ECET 987P en la diarrea porcina en Cuba.
Citas
BASULTO, R.; L. CALZADA, T. OLIVERA Y J. DE LA FUENTE: Detection of Genes for Fimbrial Antigens in Escherichia coli Isolated from Piglets with Diarrhea in Camagüey. Revista Biotecnología Aplicada. 14 (4): 237-241, 1997. BURNETTE, W. N.: "Western Blotting": Electroforetic Transfer of Proteins from SDS-PAGE to Unmodified Nitrocellulose and Radiographic Detection with Antibody and Radioiodinated Protein A. Anal. Biochem. 112: 195-203, 1981. DE GRAAF, F. K. Y P. KLAASEN: Nucleotide Sequence of the Gen Encoding 987P Fimbrial Subunit of E. coli. FEMS Microbiol. Lett. 42: 253-258, 1987. DEAN, E. A.: Comparison of Receptors for 987P Pili of Enterotoxigenic Escherichia coli in the Small Intestines of Neonatal and Older Pigs. Infect. Immunol. 58: 4030-4035, 1990. FEINBERG, A. P. Y B. A. VOGELSTEIN: A Technique for Radiolabelling DNA Restriction Endonuclease Fragment to High Activity. Anal. Biochem. 132: 6-13, 1984. GUINÉE, P. A. M.; W. H. JANSEN Y C. M. AGTERBERG: Detection of the K99 Antigen by Means of Agglutination and Immunoelectrophoresis in E. coli IsolateD from Calves and its Correlation with Enterotoxigenicity. Infect. Immun. 13: 13691377, 1976. HAREL, J.; H. LAPOINTE, A. FALLARA, L. A. LORTIE, M. BIGRAS-POULIN, S. LARIVIERE Y
J. M. FAIRBROTHER: Detection of Genes for Fimbrial Antigens and Enterotoxins Associated with E. coli Serogroup Isolated from Pigs with Diarrhea. J. Clin. Microbiol. 29: 745-752, 1991. MOL, O. Y B. OUDEGA: Molecular and Structural Aspects of Fimbriae Biosynthesis and Assembly in Escherichia coli. FEMS Microbiol. Rev. 19: 25-52, 1996. MOURICOUT, M.: Swine and Cattle Enterotoxigenic Escherichia coli Mediated Diarrhea. Development of Therapies Based on Inhibition of Bacteria-Host Interactions. Eur. J. Epidemiol. 7 (6): 588-604, 1991. RAYBOULD, T. J. G.; C. F. CROUCH Y S. D. ACRES: Monoclonal Antibody Passive Hemaglutination and Capture ELISA for Direct Detection and Quantitation of F41 and K99 Fimbrial Antigens in ETEC. J. Clin. Microbiol. 25: 278-284, 1987. SAMBROOK, J.; E. F. FRITSCH Y T. MANIATIS: Molecular Cloning: a Laboratory Manual, 3, 2 nd ed., p. 18.47-18.45. Cold Spring Harbor Laboratory Press. USA, 1989. SODERLIND, O.; B. THAFYELIN Y R. MOLLBY: Virulence Factor in E. coli Strain Isolated from Swedish Piglets with Diarrhea. J. Clin. Microbiol. 26: 879-884, 1988. VAN DER WOUDE, M.W.; F. K. DE GRAAF Y H. W. VERSEVELD: Production of the Fimbrial Adhesin 987P by ETEC During Growth under Controlled Conditions in a Chemostat. J. Gen. Microbiol. 135: 3421-3429, 1989.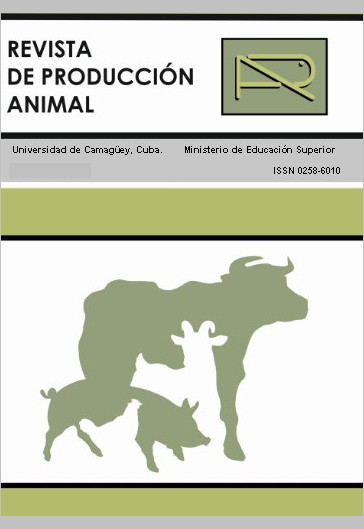 Cómo citar
Basulto Bake, R., Calzada Aguilera, L., Junco Barranco, J., & Olivera Gutiérrez, T. (2019). Caracterización fenotípica de cepas autóctonas de Escherichia coli enterotoxigénicas 987P. Revista De Producción Animal, 12(1), 53-56. Recuperado a partir de https://revistas.reduc.edu.cu/index.php/rpa/article/view/2890
Los autores de los artículos publicados en RPA retienen los derechos de autor de su trabajo, de marca y patente, y también sobre cualquier proceso o procedimiento descrito en el artículo, así como a compartir, copiar, distribuir, ejecutar y comunicar públicamente el artículo publicado en la RPA o cualquier parte de aquel siempre que indiquen la fuente de publicación (autores del trabajo, revista, volumen, número y fecha), pero están de acuerdo en que la revista publique los trabajos bajo una licencia Creative Commons.

Licencia Attribution-NonCommercial 4.0 International (CC BY-NC 4.0)