Reporte del ácaro parásito Varroa destructor (Anderson & Trueman) en colmenas (Apis mellifera L.) de una zona de la provincia de La Habana
Jorge Demedio

Dpto. de Prevención, Facultad de Medicina Veterinaria, Universidad Nacional Agraria de La Habana

Jorge L. Sanabria

Dpto. de Prevención, Facultad de Medicina Veterinaria, Universidad Nacional Agraria de La Habana

Eugenio Roque

Dpto. de Prevención, Facultad de Medicina Veterinaria, Universidad Nacional Agraria de La Habana

Idolidia Peñate

Dpto. de Prevención, Facultad de Medicina Veterinaria, Universidad Nacional Agraria de La Habana

Jesús O. Cartas

Dpto. de Prevención, Facultad de Medicina Veterinaria, Universidad Nacional Agraria de La Habana
Resumen
Es indudable que en el mundo, la varroasis constituye la más importante enfermedad de la abeja (Apis mellifera L.) y particu- larmente en Cuba ha ocasionado un efecto que alcanzó categoría de desastre biológico, por la gran cantidad de colmenas muertas y el considerable deterioro de las supervivientes. Tratándose de un ácaro macroscópico y bajo la presión de la grave situación, ocurrió que, al parecer, toda la atención se dirigió al control de la epizootia y el estudio del parásito quedó en el reporte preliminar de su hallazgo en la provincia de Matanzas. Apenas se había realizado un intento posterior de avance en este sentido. Para el nivel del conocimientos que expresaban las claves hasta hace poco, las características de los especímenes del ácaro estudiados corres- pondían a la especie Varroa jacobsoni Oudemans, aunque evidentemente se hacía necesario profundizar mucho más, partiendo de los reportes existentes acerca del diverso grado de virulencia que se le atribuía a los genotipos Ruso (R), Japonés (J) y Papúa Nueva Guinea (PNG) y la posibilidad de que existieran otros. Las últimas investigaciones y el criterio generalizado, unido a las evidencias morfológicas, permiten enunciar que los especímenes del ácaro estudiados en esta área pertenecen a la nueva especie Varroa destructor Anderson & Trueman, aunque por supuesto, resulta imposible determinar el o los halotipos presentes si no se realiza el estudio del ADN.
Citas
ALPATOV, V. V.: Varroa jacobsoni in other Countries, p.p. 9-12, Izdatelstva Nauka, Moscow, 1977.
ANDERSON, D. L.: Variation in the Parasitic Mite
Varroa jacobsoni Oud, Apidologie, 31: 281-292,
ANDERSON, D. L. Y S. FUCHS: Two Genetically Distinct Populations of Varroa jacobsoni with Con- trasting Reproductive Abilities on Apis mellifera, J. Apic. Res., 37: 69-78, 1998.
ANDERSON, D. L.; R. B. HALLIDAY Y G. W. OTIS: The Occurrence of Varroa underwoodi (Acari: Var- roidae) in Papua New Guinea and Indonesia, Api- dologie, 28: 143-147, 1997.
ANDERSON, D. L. Y A. SUKARSIH: Modification de la reproduction de Varroa jacobsoni dans les colonies d´Apis mellifera a Java, Apidologie, 27 (6): 461-466,
ANDERSON, D. L. Y J. W. H. TRUEMAN: Varroa jacobsoni (Acari: Varroidae) is More than One Spe- cies, Exp. Appl. Acarol, 24: 165-189, 2000.
BRUCE, W. A.; M. DELFINADO-BAKER Y D. L.
VINCENT: Comparative Morphology of the Peri- tremes of Varroa and Euvarroa (Varroidae), Parasites of honey bees (Apidae), Int. J. Acarol, 23 (1): 13-20.
CAJERO, A. S.: Epizootiología de la varroasis en Méxi- co. Memorias del I Congreso Internacional de Epi- demiología, p.p. 29-35, México, 2000.
DELFINADO-BAKER, M. Y M. HOUCK: Geographic Variation in Varroa jacobsoni (Acari: Varroidae): Application of Multivariate Morphometric Tech- niques, Apidologie, 20: 345-357, 1989.
GROBOV, O. F.; N. M. PULENETZ Y G. L.
SAFRONOV: Geographical Variability of the Size of the Dorsal Scutellum in Females of Varroa jacobsoni Oudemans. Proc. XXVIIth. Int. Cong. Apic., p.p.
-350, Apimondia Publishing House, 1979. GUZMÁN, L. I. DE Y M. DELFINADO-BAKER: A
New Species of Varroa (Acari: Varroidae) Associ- ated with Apis koschevnikovi (Hymenoptera: Apidae)
in Borneo, Int. J. Acarol, 22: 23-27, 1997.
GUZMÁN, L. I. DE Y T. E. RINDERER: Distribution of the Japanese and Russian Genotypes of Varroa jacobsoni, Honeybee Sci., 19: 115-119, 1998.
GUZMÁN, L. I. DE Y T. E. RINDERER: Identification and Comparison of Varroa Species Infesting Honey Bees, Apidologie, 30: 85-95, 1999.
GUZMÁN, L. I. DE; T. E. RINDERER, G. T.
DELATTE Y R. E. MACCHIAVELLI: Varroa jacobsoni Oud. Tolerance in Selected Stocks of Apis mellifera, Apidologie, 27: 193-210, 1996.
GUZMÁN, L. I. DE; T. E. RINDERER Y J. A.
STELZER: DNA Evidence of the Origin of Var- roa jacobsoni Oudemans in the Americas, Bio- chem. Genet., 35: 325-335, 1997.
GUZMÁN, L. I. DE; T. E. RINDERER Y J. A.
STELZER: Occurrence of Two Genotypes of
Varroa in North America, Apidologie, 30: 31-36,
HARRIS, J. W. Y J. R. HARBO: Changes in Repro- duction of Varroa destructor after Honey Bee Queens Were Exchanged between Resistant and Susceptible Colonies, Apidologie, 31: 689-699,
JONG, D. DE: Evolución de la resistencia de las abejas a la varroa. Memorias del VI Congreso Ibe- ro-Latinoamericano de Apicultura, Mérida, Méxi- co, 1998.
KRAUS, B.: Which Factors Affect the Danger of Var- roa jacobsoni. Lessons from the Situation in Cali- fornia, Allgemeine Deutsche Imkerzeitung, 29 (8):
-40, 1995.
KRAUS, B. Y G. HUNT: Differentiation of Varroa jacobsoni Oud. Populations by Random Amplifica- tion of Polymorphic DNA (RAPD), Apidologie,
: 283-290, 1995.
LEE, B.: Mites, Bees and Plagues That Are and Might Be, Partners in Research for Development, 8: 2-9, 1995. MORETTO, G.; L. S. GONÇALVES Y D. DE JONG:
The Effect of Climate and Honeybee Racial Type on the Reproductive Ability of the Mite Varroa jacob- soni, Apiacta, 31 (1): 17-21, 1996.
OUDEMANS, A. C.: On a New Genus and Species of
Parasitic Acari, Notes Leyden Mus, 24: 197-204,
PUENTES, T.; M. VERDE Y N. FREGEL: Análisis de los factores de riesgo asociados a la varroasis en la República de Cuba, VI Congreso Ibero- Latinoamericano de Apicultura, Memorias, México,
ROSENKRANZ, P.: Honey bee (Apis mellifera L.) Tol- erance to Varroa jacobsoni Oud. in South America, Apidologie, 30: 159-172, 1999.
SANFORD, M. T.: New Zealand Rejects Eradication of
Varroa, APIS, 18 (9): 4, 2000.
SHAW, K.: Biological Control of Varroa destructor (formerly Varroa jacobsoni), Department of Ento- mology and Nematology IACR-Rothamsted, UK,
WILSON, W. T.; J. R. BAXTER, W. L. RUBINK, Q. C.
GARZA Y A. M. COLLINS: Parasitic Mite Popula- tion Changes During Africanization of Managed Honey Bee Colonies in Mexico, Am. Bee J., 135 (12): 833, 1995.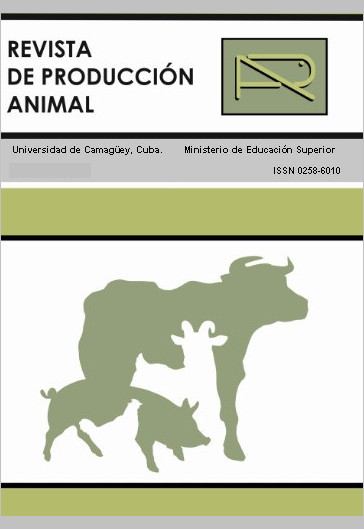 Cómo citar
Demedio, J., Sanabria, J., Roque, E., Peñate, I., & Cartas, J. (2019). Reporte del ácaro parásito Varroa destructor (Anderson & Trueman) en colmenas (Apis mellifera L.) de una zona de la provincia de La Habana. Revista De Producción Animal, 14(1). Recuperado a partir de https://revistas.reduc.edu.cu/index.php/rpa/article/view/3202
Derechos de autor 2019 Revista de Producción Animal
Esta obra está bajo licencia internacional
Creative Commons Reconocimiento-NoComercial 4.0
.
Los autores de los artículos publicados en RPA retienen los derechos de autor de su trabajo, de marca y patente, y también sobre cualquier proceso o procedimiento descrito en el artículo, así como a compartir, copiar, distribuir, ejecutar y comunicar públicamente el artículo publicado en la RPA o cualquier parte de aquel siempre que indiquen la fuente de publicación (autores del trabajo, revista, volumen, número y fecha), pero están de acuerdo en que la revista publique los trabajos bajo una licencia Creative Commons.

Licencia Attribution-NonCommercial 4.0 International (CC BY-NC 4.0)