Sistema de apoyo a la toma de decisiones en la producción de carne vacuna
Alejandro Mejías Caba

Instituto de Ciencia Animal, Carretera Central Km 47½, Apto. Postal 24, San José de las Lajas, Mayabeque, Cuba.

https://orcid.org/0000-0002-1787-0868

Justiniano Rene Stuart Montalvo

Instituto de Ciencia Animal, Carretera Central Km 47½, Apto. Postal 24, San José de las Lajas, Mayabeque, Cuba.

https://orcid.org/0000-0001-6519-3294

Bertha Chongo García

Instituto de Ciencia Animal, Carretera Central Km 47½, Apto. Postal 24, San José de las Lajas, Mayabeque, Cuba.

https://orcid.org/0000-0003-0515-6883
Citas
Alawneh, J., & Olchowy, W. (2018). Functionality and Interfaces of a Herd Health Decision Support System for Practicing Dairy Cattle Veterinarians in New Zealand. Frontiers in Veterinary Science, 5(21). https://doi.org/ 10.3389/fvets.2018.00021
Torres, S. P. A., & Delgado, D. F. F. (2018). Estudio de los sistemas silvopastoriles como alternativa para el manejo sostenible de la ganadería. Revista Ciencia y Agricultura, 15(2), 107-116. https://dialnet.unirioja.es/servlet/articulo?codigo=6682873
Rodríguez, L. (2015). Modelación y simulación de la producción de biomasa de Pennisetum Purpureum Schum vc. king grass y su aplicación en la alimentación animal (Doctoral dissertation, PhD Thesis, San José de las Lajas, Mayabeque, Cuba).
Ponnusamy, K., Sriram, N., Prabhukumar, S., Vadivel, E., Venkatachalam, R., & Mohan, B. (2016). Effectiveness of cattle and buffalo expert system in knowledge management among the farmers. Indian Journal of Animal Sciences, 86(5), 604-608. https://www.researchgate.net/profile/Kuppusamy_Ponnusamy/publication/303755313_Effectiveness_of_cattle_and_buffalo_expert_system_in_knowledge_management_among_the_farmers/links/57ce41cc08ae83b37460eb80.pdf
Walmsley, B., & Oddy, V. (2018). Modelling systems to describe maternal productivity, with the aim of improving beef production efficiency by eliciting practice change. Animal production science, 58(1), 193-205. https://www.publish.csiro.au/an/an14874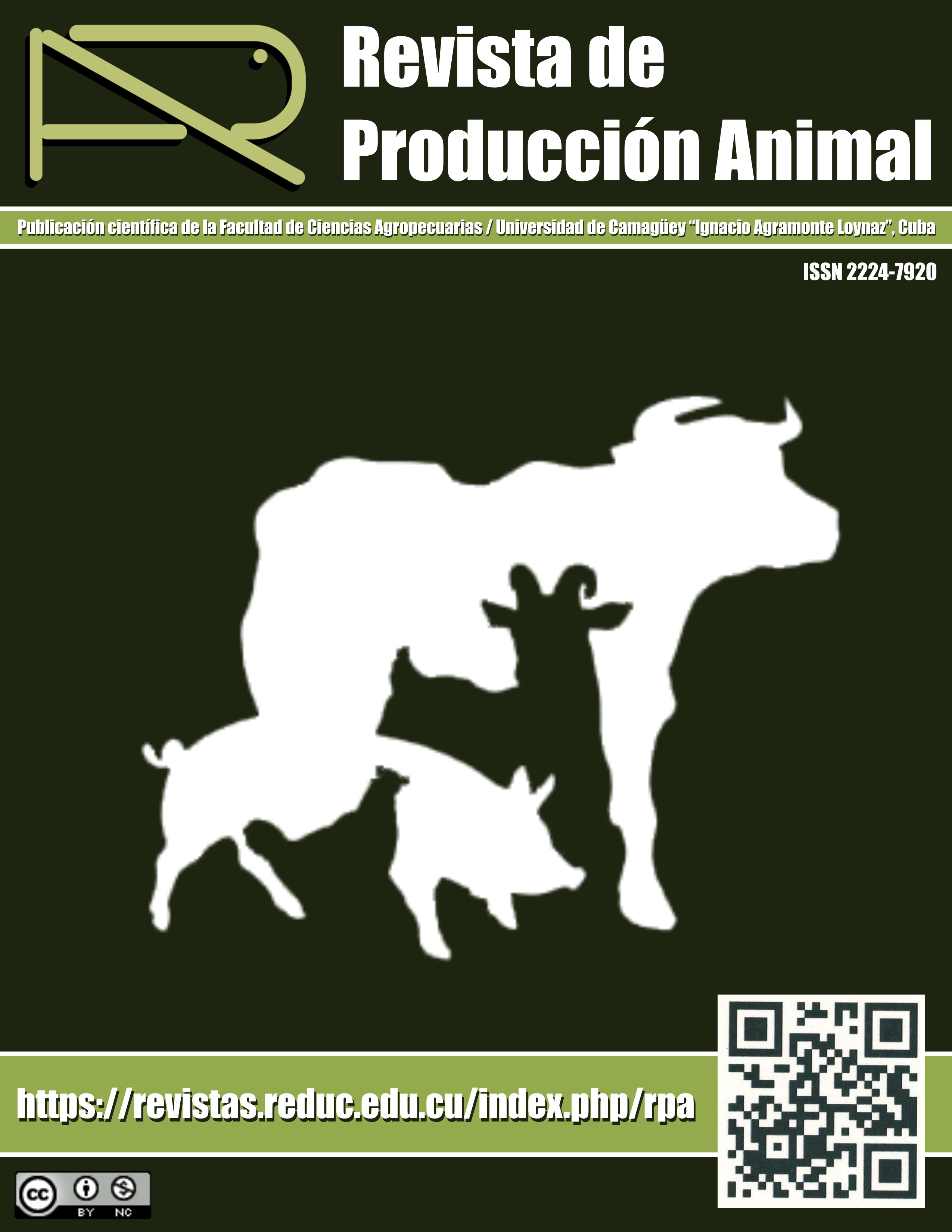 Cómo citar
Mejías Caba, A., Stuart Montalvo, J., & Chongo García, B. (2021). Sistema de apoyo a la toma de decisiones en la producción de carne vacuna. Revista De Producción Animal, 33(1). Recuperado a partir de https://revistas.reduc.edu.cu/index.php/rpa/article/view/e3609
Derechos de autor 2021 Revista de Producción Animal
Esta obra está bajo licencia internacional
Creative Commons Reconocimiento-NoComercial 4.0
.
Los autores de los artículos publicados en RPA retienen los derechos de autor de su trabajo, de marca y patente, y también sobre cualquier proceso o procedimiento descrito en el artículo, así como a compartir, copiar, distribuir, ejecutar y comunicar públicamente el artículo publicado en la RPA o cualquier parte de aquel siempre que indiquen la fuente de publicación (autores del trabajo, revista, volumen, número y fecha), pero están de acuerdo en que la revista publique los trabajos bajo una licencia Creative Commons.

Licencia Attribution-NonCommercial 4.0 International (CC BY-NC 4.0)