Nutritional Management of Prefattening and Fattening Stages ot an Integrated Swine Farm
Jorge Estévez Alfayate

Faculty of Agricultural Sciences, Ignacio Agramonte Loynaz University of Camagüey, Cuba
Palabras clave:
feed, prefattening, fattening stages, raw materials, simulation, economic feasibility
Resumen
The aim of this paper is to assess economic and biologic feasibility of different feed categories in swine prefattening and fattening stages. Equally important is to quantify the contribution of nutrients, digestible energy, and crude proteins based on conventional raw materials (corn and soybean), as well as nonconventional ones (parted rice, fat and sunflower meal). A composition analysis was made, and rations for pigs were simulated in the abovementioned stages. According to the standard supplies, the protein levels found in the commercial feed type were either excessive or deficient at times in relation to animal requirements. The costs of production were subsequently increased, and nutritional unbalances were observed, making feed rations costlier than the feeds made for the stages under the study, using nonconventional raw materials.
Descargas
La descarga de datos todavía no está disponible.
Citas
AOAC. (1995). Official Methods of Analysis of AOAC International (16th edición, Tomo 1, Cap. 20). Virginia, USA: Editorial AOAC.

BANCO NACIONAL DE CUBA (2015). Información económica, 9 (149). rnps-2330. Extraído el 15 de mayo de 2006, desde http://www.bc.gob.cu/espanol/boletines.asp.

BAUZÁ, R. (2007). Alimentos alternativos para animales monogástricos. IX Encuentro de Nutrición y Producción en Animales Monogástricos, Montevideo, Uruguay.

CRUZ, M. (2006) ¿Agricultura sostenible? (pp. 236-300). En: Ada Guzón (Comp.) Desarrollo local en Cuba. La Habana, Cuba: Editorial Academia,

CUARÓN, J. A. (1999, julio). Proteína y aminoácidos para cerdos en crecimiento y acabado. El Foro-99, 19 al 21, Miami, FL., Watt Publishing Co.

CUARÓN, J. A. (2003). Curvas de crecimiento: Su estimación e importancia en la nutrición. Asociación de Consultores en Tecnologías del Cerdo, Argentina. Retrieved on December 20, 2015, from e http://www.vetefarm.com/nota.asp?not=544&sec=8.

DÍAZ, JUANA (1996). Eficiencia y alimentación no convencional de cerdos. La Habana, Cuba: Instituto de Ciencia Animal.

ECHENIQUE, ANA (2003). Evaluación bioeconómica de sistemas de producción de cerdos. Informe final de FPTA 130. INIA, Facultad de Agronomía. Retrieved on December 20, 2015, from http://www.inia.uy/Publicaciones/Documentos%20compartidos/15630041107080925.pdf.

FEDNA (2003). Tablas de composición y valor nutritivo de los alimentos para la fabricación de piensos compuestos. España: Ed. Fundación Española para el Desarrollo de la Nutrición Animal, Universidad Politécnica de Madrid. Retrieved on April 10, 2015, from sde http://www.fundacionfedna.org/ingredientes-para-piensos.

LEHESKA, M.; WULF, M.; CLAPPER, A.; THALER, C. y. MADDOCK, J. (2002) Effects of High-Protein/Low-Carbohydrate Swine Diets During the Final Finishing Phase on Pork Muscle Quality. J. Anim. Sci., 80, 137-142.

LON WO, E y GUTIÉRREZ, O. (1991). Miel final y jaboncillo en dietas para pollos de ceba. ACPA, 16 (1).

Lon Wo, E. y Díaz, M. F. (2007, noviembre). Modelos alternativos para la producción de proteína de origen animal. IX Encuentro de Nutrición y Producción en Animales Monogástricos, Montevideo, Uruguay.

INSTITUTO DE INVESTIGACIONES PORCINAS (2005). Manual de crianza porcina para pequeñas y medianas producciones. X Fórum de Ciencia y Técnica, La Habana, Cuba.

MARTÍNEZ, MAYULY; CASTRO, M.; AYALA, LÁZARA; HERNÁNDEZ, L. y GARCÍA, ESTRELLA (2005). FC14 la miel rica de caña en la alimentación de cerdas lactantes. I Congreso de Producción Animal.

MINAGRI (2008). Grupo de Producción Porcina. Manual de Procedimientos Técnicos para la Crianza Porcina. La Habana, Cuba: Ministerio de la Agricultura.

NRC (1998). Mineral Toleranses of Domestic Animals. Washington DC, EE.UU: National Academy Press.

POMAR, C. y DIT BAILLEUL, P. t22/> (1999). Determinación de las necesidades nutricionales de los cerdos de engorde: límites de los métodos actuales. XV Curso de Especialización. Avances en nutrición y alimentación animal.

POMAR, C. (1999). Alimentar mejor a los cerdos para reducir el impacto medio ambiental. Jornadas técnicas: Factores que afectan la eficiencia productiva y la calidad en porcino. Vic, 1 de junio de 1999.

SAVON, LOURDES; LARDUET, R.; CASTRO, M.; DIAZ, JUANA y DIAZ, C. P. (1994). Estimación de las necesidades nutritivas del ganado porcino en Cuba. I. Etapa de preceba. Rev. Cubana Ciencias Agric., 28.

SCHINCKEL, A. P.; PRECKEL, P.V. y EINSTEIN, M. E. (1996). Prediction of Daily Protein Accretion Rates of Pigs from Estimates of Fat-Free Lean Gain Between 20 and 120 Kilograms Live Weight. J. Anim. Sci., 74 (498), 503.

STEIN, H. (2011). Ingredientes alimenticios alternativos: concentración energética y en nutrientes, digestibilidad y niveles recomendados de inclusión. Ingredientes alimenticios alternativos para porcino. XXVII Curso de especialización FEDNA. Retrieved on April 10, 2015, from http://www.fundacionfedna.org/PUBLICACION.

TORRALLARDONA, D. y SOLER, J. (2003). Potencial genético y alimentación óptima por fases en porcino. Barcelona, España: Institut de Recerca i Tecnologia Agroalimentàries (IRTA), Departamento de Agricultura, Ganadería, Pesca, Alimentación y Medio Natural.

VAN MILGEN, J. y NOBLET, J. (1999). Partitioning of Energy Intake to Heat, Protein, and Fat in Growing Pigs. J. Anim. Sci., 77 (1), 2154-2162.

VESTERGAARD, E. M. (1997). The Effect of Dietary Fibre on Welfare an Productivity of Sows. Ph.D. Thesis, The Royal Veterinary and Agricultural University, Copenhagen.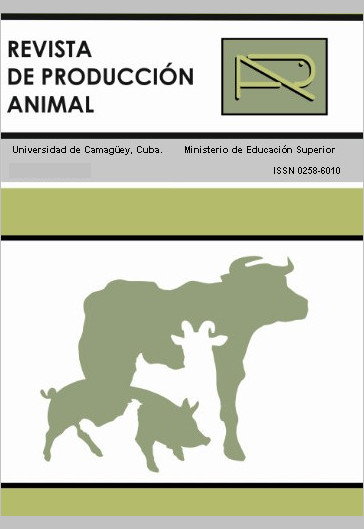 Cómo citar
Estévez Alfayate, J. (2018). Nutritional Management of Prefattening and Fattening Stages ot an Integrated Swine Farm. Revista De Producción Animal, 28(2-3), 11-17. Recuperado a partir de https://revistas.reduc.edu.cu/index.php/rpa/article/view/2252
Sección
Manejo y Alimentación
Los autores de los artículos publicados en RPA retienen los derechos de autor de su trabajo, de marca y patente, y también sobre cualquier proceso o procedimiento descrito en el artículo, así como a compartir, copiar, distribuir, ejecutar y comunicar públicamente el artículo publicado en la RPA o cualquier parte de aquel siempre que indiquen la fuente de publicación (autores del trabajo, revista, volumen, número y fecha), pero están de acuerdo en que la revista publique los trabajos bajo una licencia Creative Commons.

Licencia Attribution-NonCommercial 4.0 International (CC BY-NC 4.0)