VIGSA: Software for Animal Health Surveillance
Rándolph Delgado Fernández

Center for Bio-feed Research (CIBA), Morón, Ciego de Ávila, Cuba

Juan Libera Frómeta

Computing and Electronics Club for the Youth, Ciego de Ávila, Cuba

Guillermo Barreto Argilagos

Faculty of Science Applied to Industry, Ignacio Agramonte Loynaz University of Camagüey, Cuba
Descargas
La descarga de datos todavía no está disponible.
Citas
AYDIN, A.; CANGAR, Ö.; OZCAN, S.; BAHR, C. y BERCKMANS, D. (2010). Application of a Fully Automatic Analysis Tool to Assess the Activity of Broiler Chickens with Different Gait Scores. Comput. Electron. Agric., 73 (2), 194-199.

BERCKMANS, D. (2014). Precision Livestock Farming Technologies for Welfare Management in Intensive Livestock Systems. Revista de Sci. Tech. Off. Int. Epiz., 33 (1), 189-196.

GONZÁLEZ, I. y PERCEDO M. (2005). Sistema automatizado para el análisis de riesgo biológico de la población animal (SARB). Rev Salud Anim., 27 (1), 15-20.

JANUS, A. (2012). Towards a Common Agile Software Development Model (ASDM). ACM SIGSOFT. Software Engineering Notes, 37 (4), 1-8.

MORENO, O. (2011). Una mirada integradora a la gestión de marketing en los servicios científico-técnicos. Ciencia en su PC, (4), 106-121.

SANTOS, M. y VAZQUEZ, R. (1997). Factores condicionantes del resultado del desarrollo de nuevos productos en las empresas de alta tecnología. Revista Española de Investigación de Marketing,
(1), 165-189.

SILVA, T.; SELBACH, S.; MAURER, F. y HELLMANN, T. (2012). User Experience Design and Agile Development: from Theory to Practice. Journal of Software Engineering and Applications, 5 (10), 743-751.

VIAZZI, S.; BAHR, C.; SCHLAGETER-TELLO, A.; VAN HERTEM, T.; ROMANINI, C.; PLUK, A. et al. (2013). Analysis of Individual Classification of Lameness Using Automatic Measurement of Back Posture in Dairy Cattle. J. Dairy Sci., 96 (1), 257-266.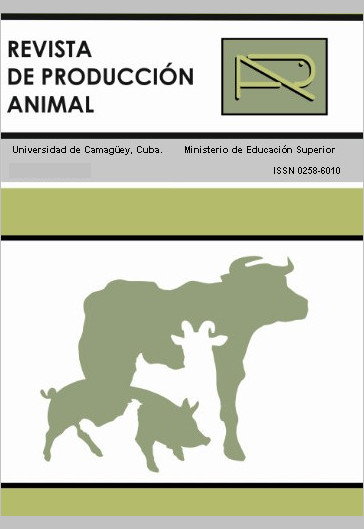 Cómo citar
Delgado Fernández, R., Libera Frómeta, J., & Barreto Argilagos, G. (2018). VIGSA: Software for Animal Health Surveillance. Revista De Producción Animal, 28(2-3), 60-62. Recuperado a partir de https://revistas.reduc.edu.cu/index.php/rpa/article/view/2263
Los autores de los artículos publicados en RPA retienen los derechos de autor de su trabajo, de marca y patente, y también sobre cualquier proceso o procedimiento descrito en el artículo, así como a compartir, copiar, distribuir, ejecutar y comunicar públicamente el artículo publicado en la RPA o cualquier parte de aquel siempre que indiquen la fuente de publicación (autores del trabajo, revista, volumen, número y fecha), pero están de acuerdo en que la revista publique los trabajos bajo una licencia Creative Commons.

Licencia Attribution-NonCommercial 4.0 International (CC BY-NC 4.0)